Winsor and Newton Galeria acrylic is another student-grade acrylic paint brand. As Winsor and Newton is a well-renowned paint brand I thought of reviewing their Galeria acrylic paint line and determining if it is good value for your money.
I ran some experiments to check several properties of Winsor and Newton Galeria acrylic paint. According to my experiments and information, I have found, you will find many things about Winsor and Newton Galeria acrylic paint and will be an informed consumer.
Following are the pros and cons of Winsor and Newton Galeria acrylic paint.
Pros
Use the same or similar permanent and lightfast pigment as the professional acrylic range
Archival
Very good color mixing ability
Excellent lightfastness and permanence
Affordable
Cons
Does not have the best coverage
Most colors are not single pigmented
Almost all colors are semi-opaque or transparent
Only available in North America at the moment
Key takeaways:
Galeria acrylic paint is from Winsor and Newton which is a well-renowned brand.
It offers great archival quality paint.
But coverage and opacity are not satisfactory for a well-renowned brand.
You can purchase 1 oz of Galeria paint for 1 USD.
Who should buy Winsor and Newton Galeria Acrylic paint:
Beginners to intermediate artists
Those who love Winsor and Newton brand
Those who look for archival quality paint for an affordable price
I have also written a whole article comparing affordable 5-student grade acrylic paint brands. You will find what is the best acrylic paint that is the least expensive and offer the best quality.
Student grade or artist-grade?
Winsor and Newton Galeria acrylic paint is a student-grade paint line. It is affordable when compared to Winsor and Newton's professional acrylics. According to Winsor and Newton, the Galeria range is for artists who seek both high-quality and more accessible paints.
Let's get into the details of each property of the Galeria acrylic paint. For the below experiments, I have used cadmium red hue and titanium white Galeria acrylic colors.
I have also written a review about the artist's grade acrylic paint range of Winsor & Newton which is Winsor & Newton Professional acrylics. You will find a detailed explanation of the professional acrylics and a comparison between Glaeria and professional acrylic paints as well.
Texture and consistency
Winsor and Newton Galeria acrylic paint have a flowy nature to it. It has a creamy consistency and not a stiff one. It feels like there is less pigment load and more fillers and water due to the flowy nature. However, it is not either heavy body or soft body acrylic paint. It is in the middle and more towards soft body acrylic paint.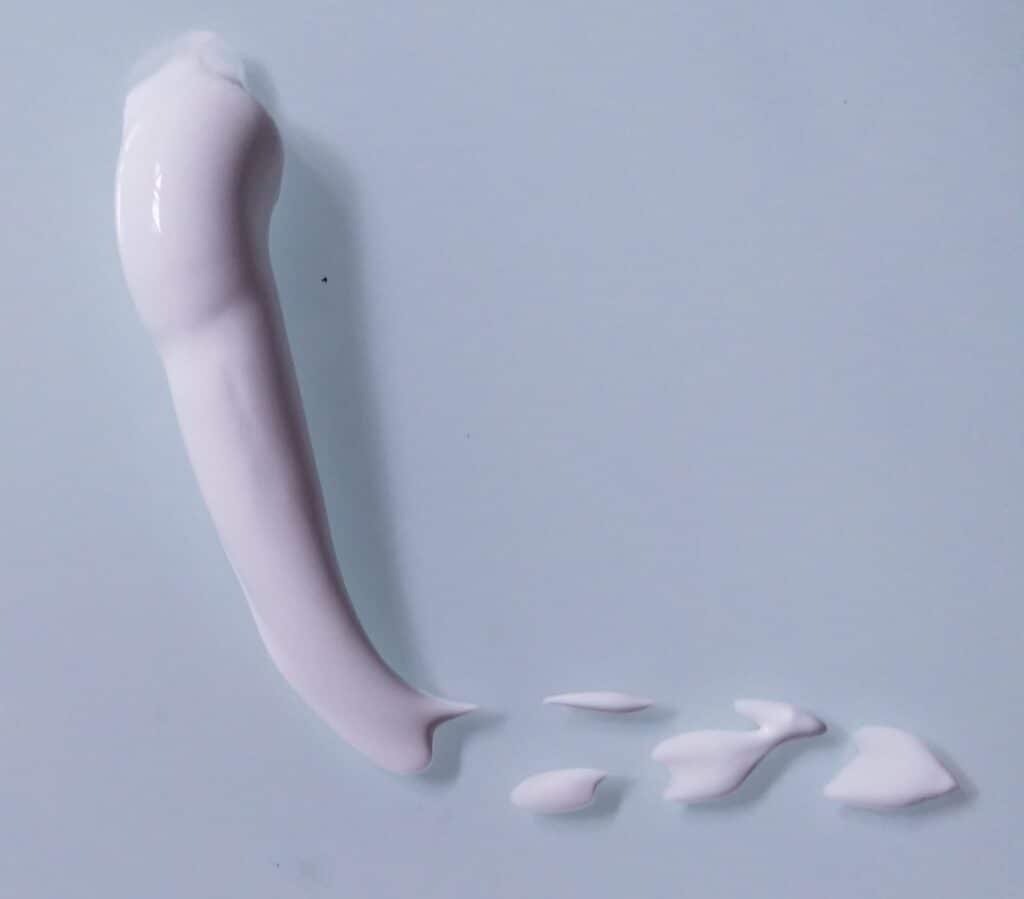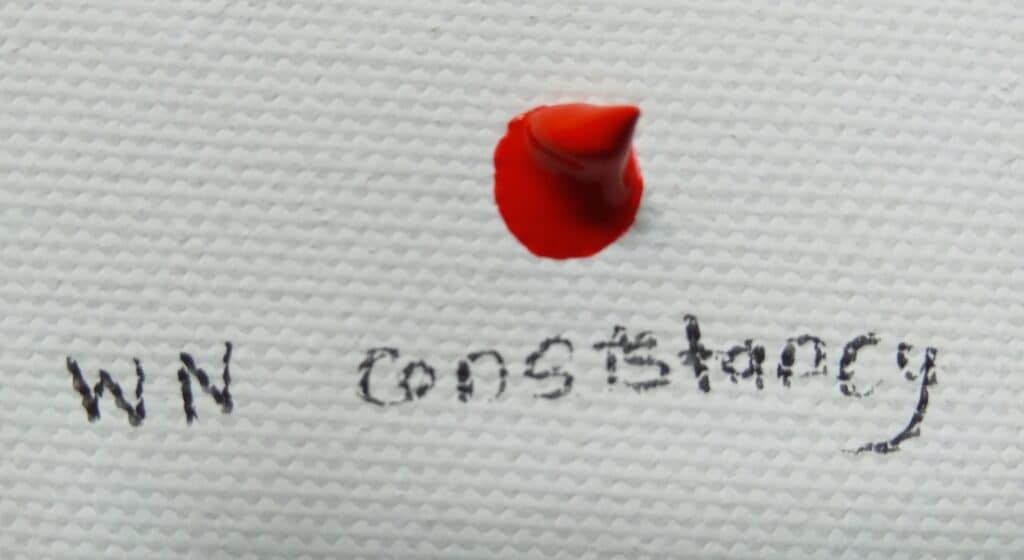 Application
The application of paint is very smooth. As the paint is not very thick you can apply the paint straight out of the tube easily. However, I felt like the colors are more streaky. To avoid streaks you can apply thin layers and build up more layers on top.
I have also tried mixing more water with paint. The below image shows the several swatches I made with different amounts of water.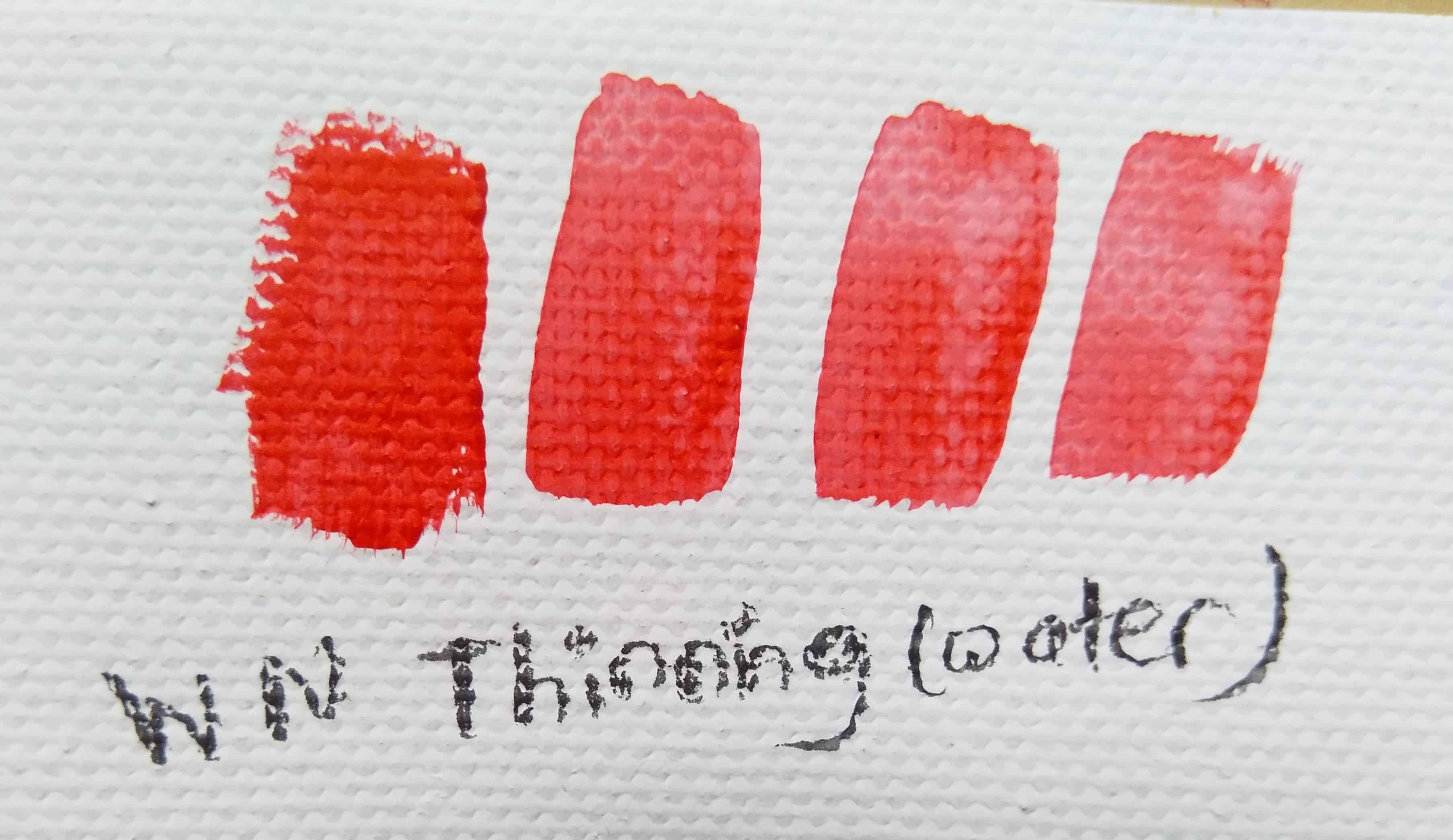 As you can see, the paint is very thin. Only a little amount of water is needed to thin down the paint. There does not seem to be much pigment in the paint. Also, the paint is semi-opaque. It may also affect the thinness of paint with water.
Pigment
You can find pigment information, lightfastness, and permanency rating on the paint tube label.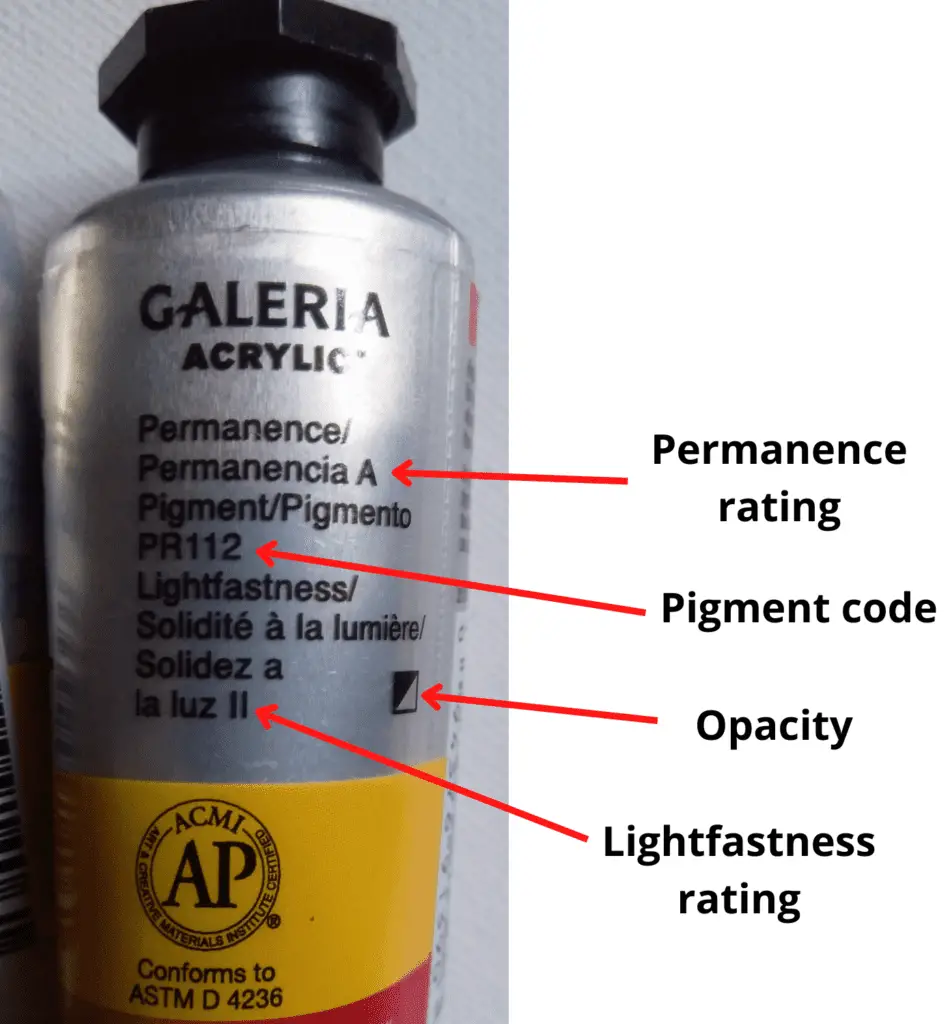 Galeria uses either the same pigments as the professional range or a similar pigment, but in a lower concentration. This makes it easy to use with, or transition to artists' grade acrylic when a wider choice and higher pigment strength is needed.

Winsor and Newton- Galeria acrylic
Galeria's colors are vibrant and bright. There are 57 different colors in the series. As said before, Galeria acrylic paint has the same or similar pigments as the professional acrylic range but in fewer concentrations. But I think it is better if all Galeria acrylics have the same pigments as a professional grade acrylic and not similar pigments.
There are 4 opacities in Galeria acrylic colors. They are opaque, semi-opaque, transparent, and semi-transparent. You can find the opacity information of any color from this link.
There are only 5 colors that are single pigmented and opaque. They are yellow ochre, red ochre, mars black, lamp black, and titanium white. All other colors are either semi-opaque or transparent. Also, most colors are not single pigmented colors which are good value for money.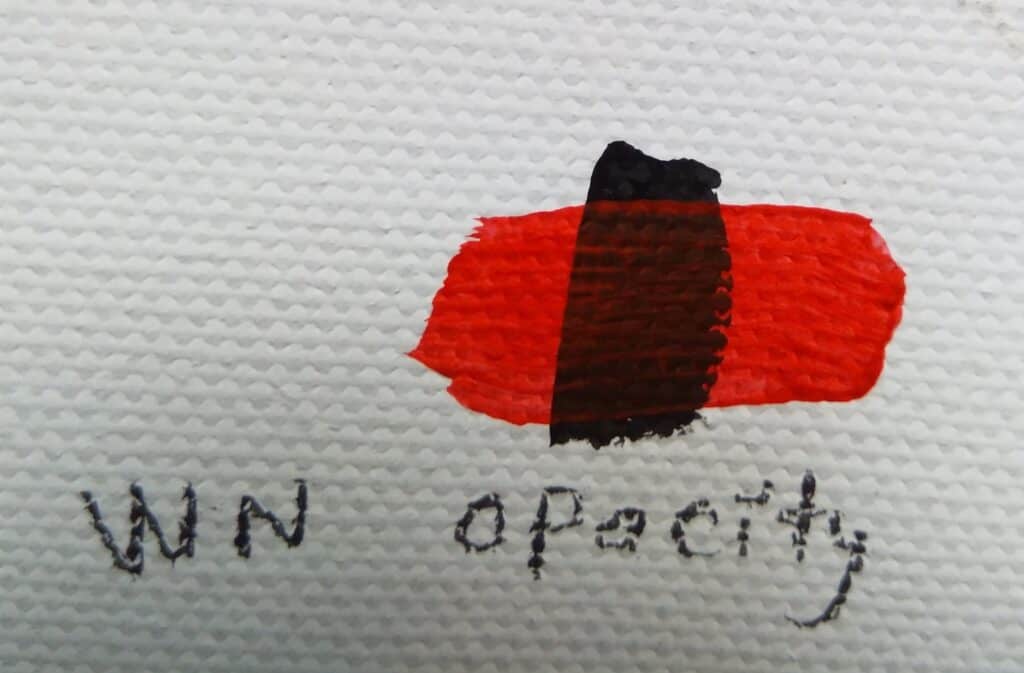 The cadmium red hue that I have used is a semi-opaque color and titanium white is an opaque color. Cadmium red hue has PR112 single pigment and titanium white has PW6 single pigment. Only spend your money on single pigmented primary colors and mix other colors.
However, it is a downside that most Galeria acrylic colors are a mixture of pigments and are semi-opaque or transparent.
Coverage
I have tested the coverage of opaque color titanium white and semi-opaque color cadmium red hue. Both of them have good coverage but it is not super satisfactory. Titanium white is slightly on the transparent side although it is an opaque color. Also, the cadmium red hue is semi-opaque and slightly has less coverage.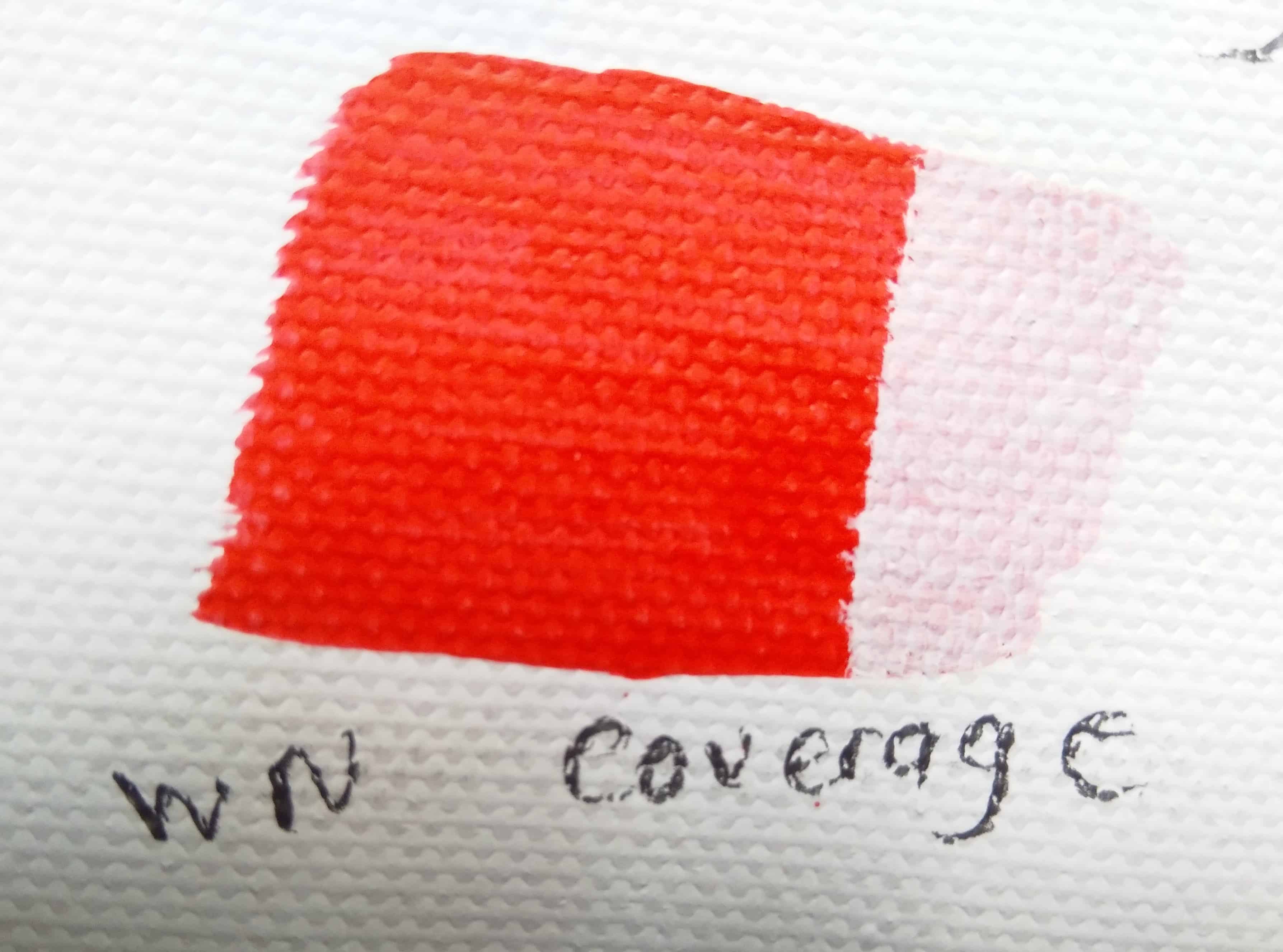 I have tested the detailed coverage of both of these colors by painting them over black stripes. This way you can see the transparency of colors and the ability to cover details underneath. The ability to cover details is low with Galeria acrylic colors.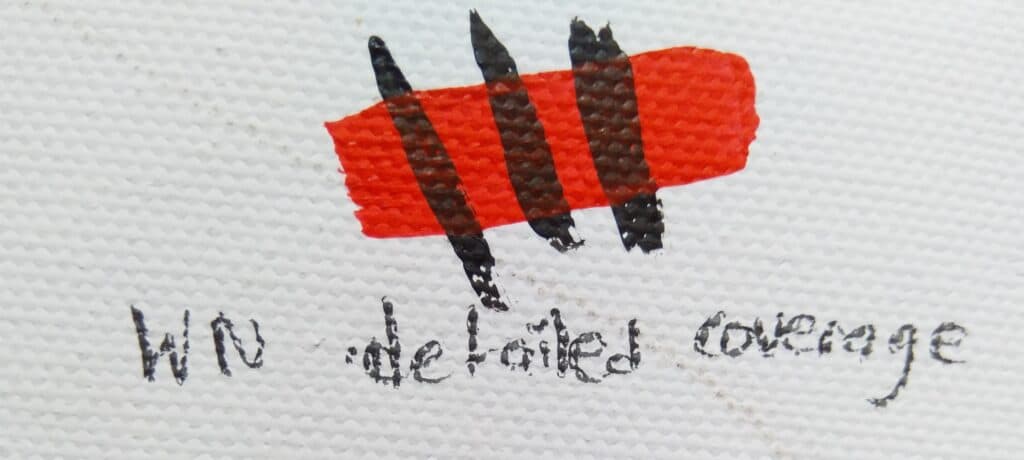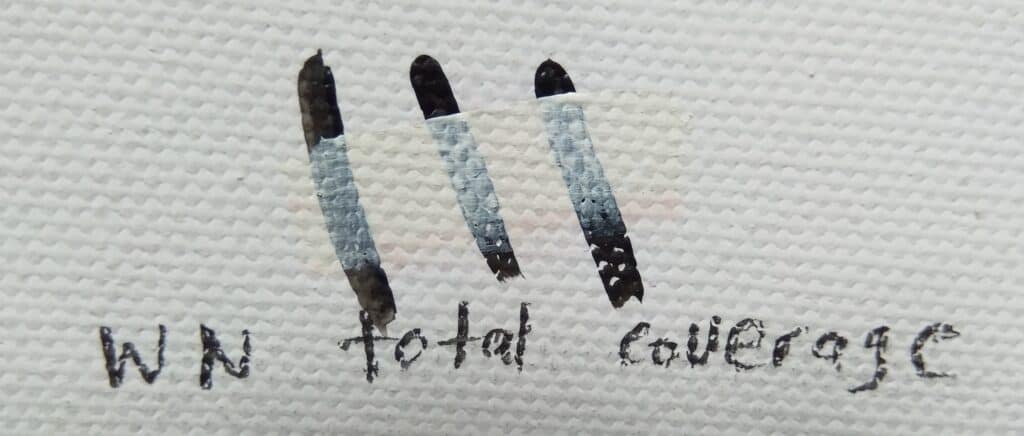 However, the few opaque colors have okay coverage, while the coverage of semi-opaque and transparent colors is not satisfactory. Sadly you can mostly get semi-opaque or transparent colors with Galeria acrylic if you want single color pigments.
Color mixing
The color mixing ability is very good with Galeria acrylics. The mixed colors are not muddy. Since I have mixed opaque titanium white with semi-opaque cadmium red, the mixed colors are very opaque. It is one of the ways you can increase the opacity of Galeria acrylic colors.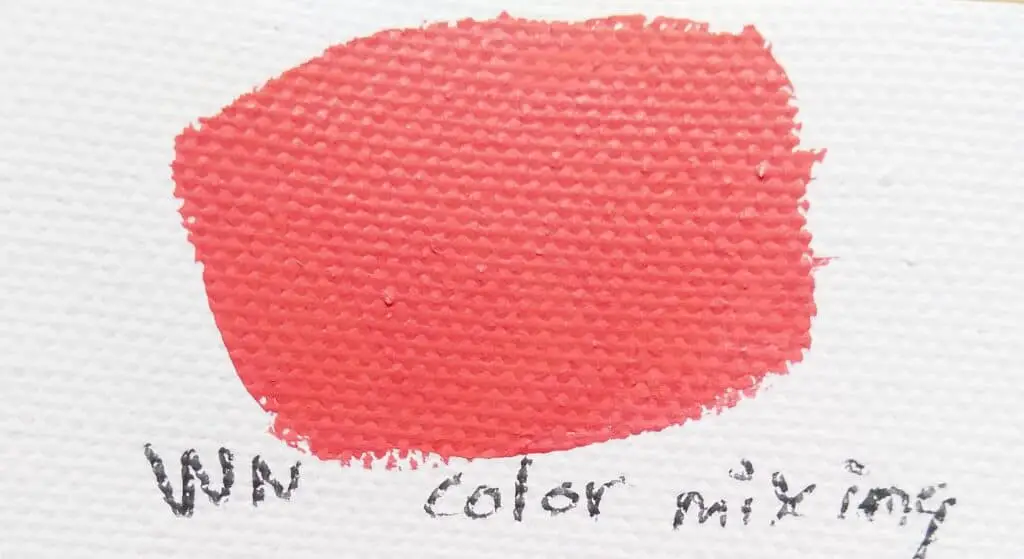 When mixing colors cadmium red hue overpowers titanium white easily and created a darker color. So Galeria acrylic titanium white will not be the best choice if you need a very good quality white for the colors to pop.
Drying qualities
Thin paint films of Galeria acrylic colors will dry for 10 to 20 minutes while thick paint layers will dry in an hour or more. However professional Winsor and Newton colors take more time, 20 to 30 minutes to dry.
To increase the drying time of Galeria acrylic paint you can use Winsor & Newton Galeria Acrylic Retarder (link to view on Blick Art Material). You can also use a sta-wet palette of Masterson's (link to view on Blick Art Materials) to keep any acrylic paint workable for days.
Finishing
Galeria acrylic colors have a statin or have a sheen after finishing. As mentioned before the mixed colors look more streaky. Applying multiple thin layers after letting dry between each layer may help.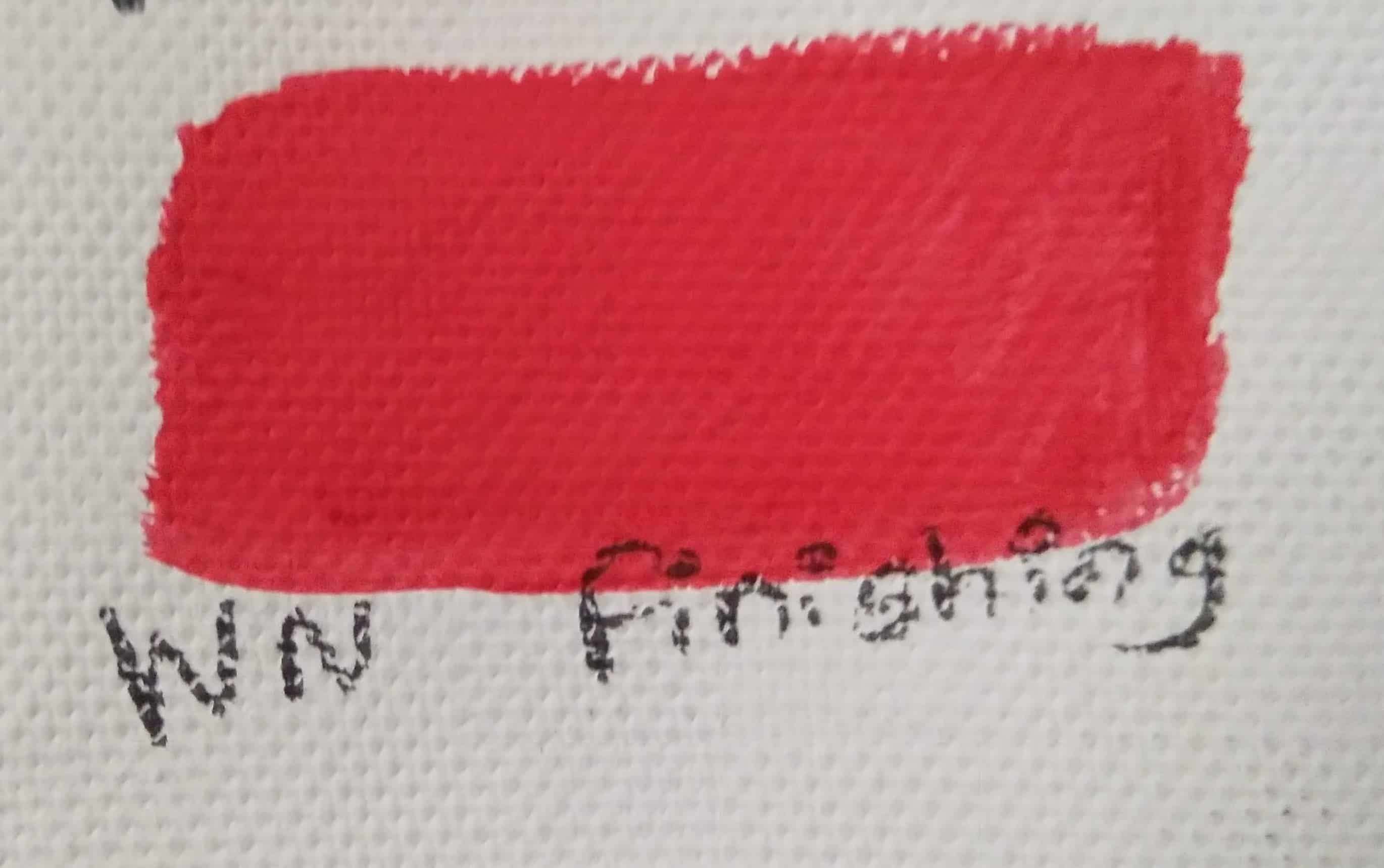 Lightfastness
American Society for Testing and Materials (ASTM) has tested Galeria acrylic and provided a lightfastness rating. Lightfastness I indicates the highest lightfastness and lightfastness V indicates the least lightfastness.
Galeria acrylic paint falls under lightfastness I or lightfastness II categories which indicate very good and excellent lightfastness as well as permanent paintings that do not fade over time.
Permanence
Permanence is a better indication of a painting's ability to not fade or change over time when exposed to light and atmosphere. Unlike most other paint, Winsor and Newton have a permanency rating for their colors. permanency considers lightfastness, stability of acrylic polymer binder, and pigment manufacturer testings.
Following is the permanence rating used by Winsor and Newton;
AA      – Extremely Permanent
A         – Permanent
B         – Moderately Durable
C         – Fugitive
All Galeria acrylic colors have the permanence of AA and A which indicates the artwork you make with Galeria acrylic paint will remain permanent without changing over time. This permanency is not found in most craft-quality acrylic paints. So if you are an artist looking for archival qualities Winsor and Newton Galeria acrylic is a great choice.
Accessibility
Winsor and Newton Galeria acrylic paint are available in different sizes and forms. You can get Galeria acrylic paint in tubes, bottles, and tube sets. Colors are available from 0.4 oz(12 ml) to 16.9 oz (500ml).
Also in the Galeria acrylic range, you can get acrylic mediums for affordable prices. However, Winsor and Newton products cannot be shipped outside of North America currently, due to manufacturer's distribution restrictions. So if you are living outside of North America, you may not get Galeria acrylic paint.
Price
You can buy Galeria acrylic paint from Blick Art Materials for the best prices from 5.34 USD to 30 USD. All colors of the same size have the same price. The following table will show you how much 1 oz of paint from different sizes costs at the Blick Art material store.
| | | |
| --- | --- | --- |
| Type of Galeria acrylic paint | Quantity | Price (USD) per 1 oz of paint |
| Galeria acrylic single color tube | 60 ml (2 oz) | 2.67 |
| Galeria acrylic single color tube | 200 ml (6.75 oz) | 1.06 |
| Galeria acrylic single color bottle | 250 ml (8.4 oz) | 1.35 |
| Galeria Acrylics, Set of 10 | 20 ml (0.67 oz) | 2.04 |
| Galeria Acrylics, Set of 6 | 60 ml (2 oz) | 1.35 |
| Galeria Acrylics, Set of 10 | 12 ml (0.4 oz) | 4.09 |
| Galeria acrylic single color bottle | 500 ml (16.9 oz) | 0.99 |
| Galeria Acrylics, Set of 10 | 60 ml (2 oz) | 1.27 |
| Galeria Acrylics, Set of 20 | 12 ml (0.4 oz) | 3.74 |
Price comparison of paints available in Winsor and Newton Galeria acrylic range
You can get the best value for money by buying a 16.9 oz acrylic paint bottle for 0.99 USD/oz. However, this might not be convenient for everyone as it is a large size. So the next best option for you is 6.75 oz acrylic paint for 1.06/oz USD.
If you want 2 oz tubes, the best option would be buying a Galeria acrylic set of 6 for 1.35USD/oz. It will have all the necessary colors you need.
Final thoughts
Winsor and Newton is an art brand that has been there forever. Their Galeria paint line is best for beginner, and student artists to get a feel of acrylics. Also, it is best for artists who want archival quality paintings for an affordable price.
However one of the main caveats of this paint line is less coverage and the paint does feel less pigmented. If you are someone who loves Winsor and Newton brand and want to try their student-grade acrylic paint line for only 1USD per oz of paint then it is the best choice for you.