Liquitex is the company that introduced the water-based acrylics we used today. It is renowned for high-quality acrylic paints. However, they have two lines of acrylic paint brands called professional acrylic and basic acrylic.
Professional acrylics are more expensive and have a high concentration of pigments. Basic acrylics are less expensive and have less amount of pigments. In this article, I will be reviewing Liquitex Basics acrylic paint.
Pros
Affordable (4x less expensive than professional acrylic)
Have very good coverage/ opacity
Very good to excellent lightfastness
Archival-quality
Cons
Does not have the best coverage and pigment concentration as professional acrylics
Less single pigmented colors are available
Paint may be wasted as there is less control over taking the paint out
Key takeaways:
Liquitex Basics is an affordable option with good quality, coverage, and opacity
All colors are lightfast and archival
It is the best option if you cannot afford artist-grade or professional acrylic paint right now
However, there is less pigment concentration than in professional acrylic paint and coverage is lower than in professional acrylic paint
Who should buy Liquitex Basics:
Students
Beginner artists
Professional artists who are more concerned about the affordability
Artists who want to explore acrylic paint as a new medium
Those who cannot afford professional acrylic paint yet
I have also written a whole article comparing affordable 5 student grade acrylic paint brands. You will find what is the best acrylic paint that is the least expensive and offer the best quality.
Is Liquitex Basics Student grade or artist-grade paint?
Liquitex basics is a student-grade paint but with the highest quality possible for a lower price range. It uses the same pigments used in professional acrylic paint but with less concentration. You can feel the quality of that paint when you are using it, compared to other crafts or low-quality paints.
As the name suggests, Liquitex Basics is perfect when you are starting but cannot spend tons of money on professional-grade paints. It is certainly a better choice than choosing craft or hobby-grade acrylic paint.
The experiment to test the different properties of Liquitex Basics
Below I have described the different properties of Liquitex Basic acrylic paint in detail according to my experience and experiments. It will help you to make a better decision about paint as an informed consumer.
For the experiments, I used single pigmented opaque Liquitex Basic colors as they may offer the highest quality in the paint line and the best coverage. The two colors I have chosen are pyrrole red with pigment 'PR254' and titanium white with pigment 'PW9'.
I have used a canvas to do all the experiments, as the canvas is the surface most of us going to use at the end.
Application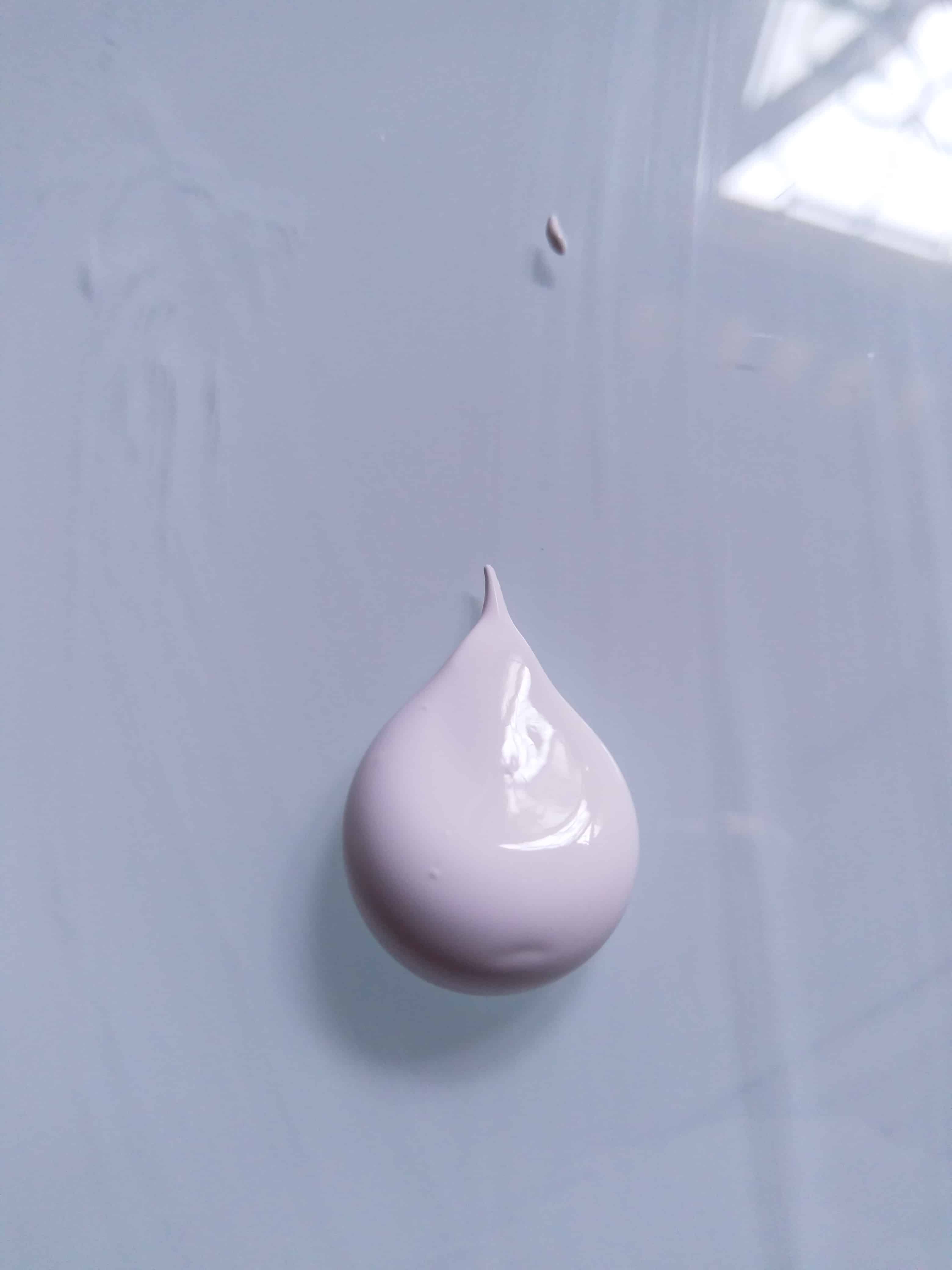 The paint application is smooth but not creamy and not too thick either. It is in the middle. It does not feel like the paint is loaded with fillers. Instead, it feels like the paint is well pigmented. It has a slightly chalky application probably due to more pigments and fewer fillers. Overall the application is very nice.
Pigment
Pyrrole red is a very bright and vibrant color. Overall Liquitex has sharp vibrant colors and does not have a muddy look. Although Liquitex basics is a students grade brand it has 72 different colors.
Most of Liquitex's Basic colors are not made from one single pigment but a mixture of pigments. Buying single pigmented colors is a cost-effective way as you can mix the multiple pigmented colors yourself. You will also learn more about color mixing too.
You can find pigment information on the label of the tube. The following image will show you important information you can find on the label.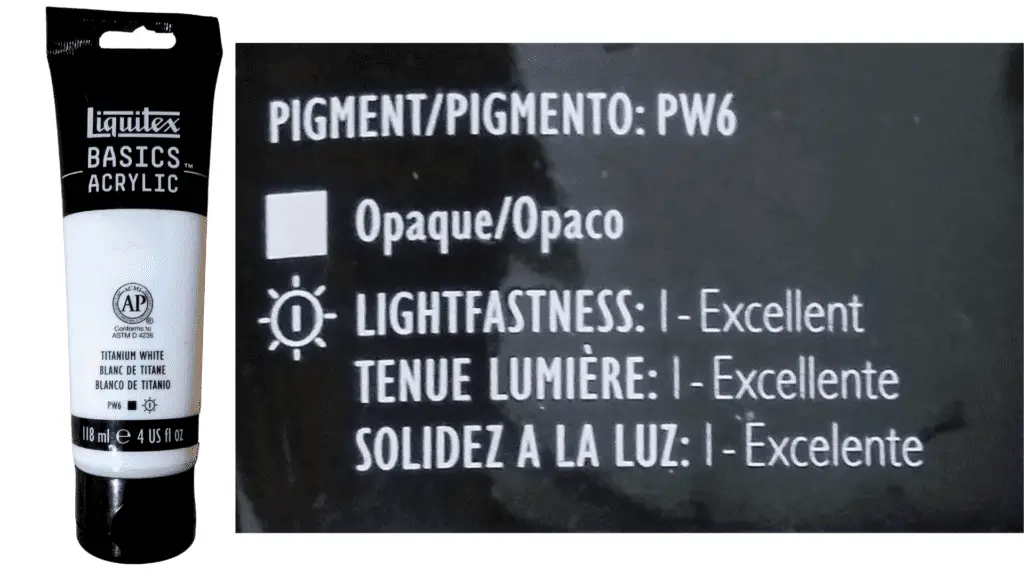 The main difference between Liquitex Basics and their professional acrylic range is the pigment load. Basic colors use the same pigment as professional colors but with a lighter load. So the quality of pigment is the same as the professional-grade paint. This lighter load is higher compared to any craft or hobby-grade acrylic paint.
Fillers
Paint manufacturers do not mention any other ingredients in a paint tube as this information is proprietary. However, with a lighter pigment load and 4 to 14 fl oz tubes should contain some fillers. However, the professional-grade acrylic paint does not have fillers. It only has pigment, binder, additives, and water.
Coverage
Different paint brands have different opacity categories. In Liquitex basics, there are 3 opacity categories. They are opaque, semi-opaque, and transparent. It is indicated on the paint tube with the following symbols.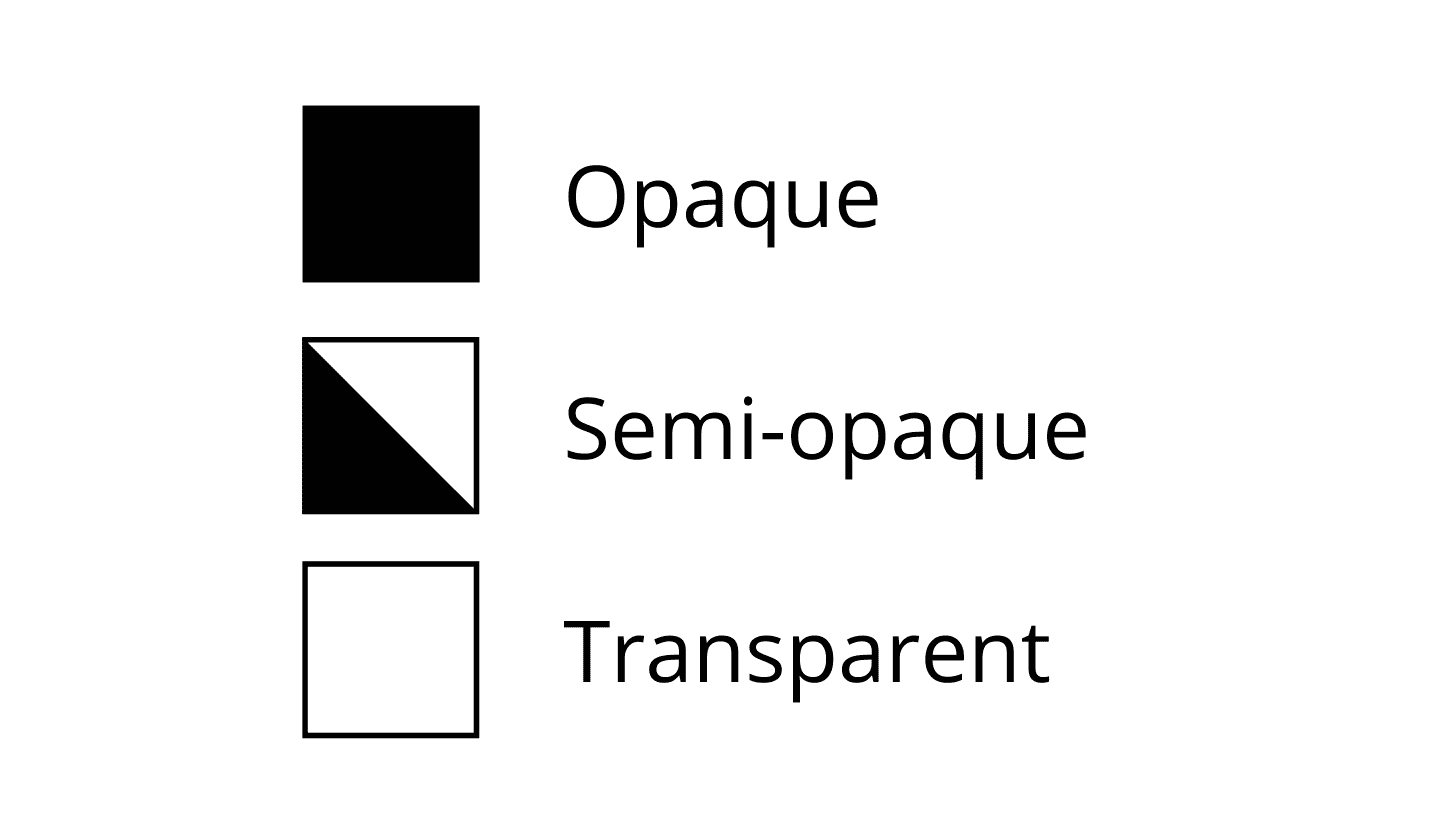 Liquitex basics have excellent coverage when compared to craft acrylic paints and probably more than other student-grade paints. To test the coverage or opacity of the paint I drew black stripes on canvas and painted them over with Liquitex Basics.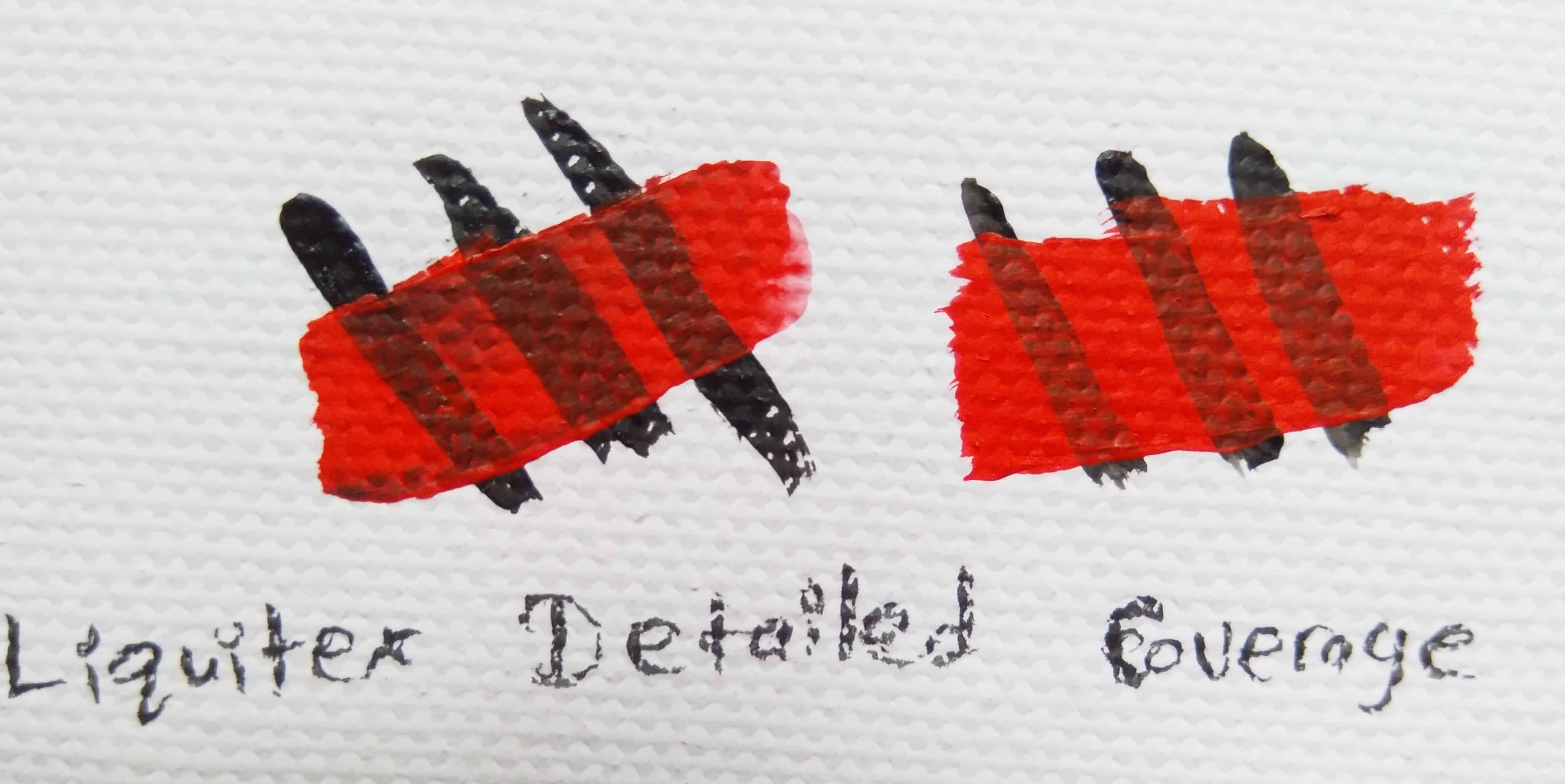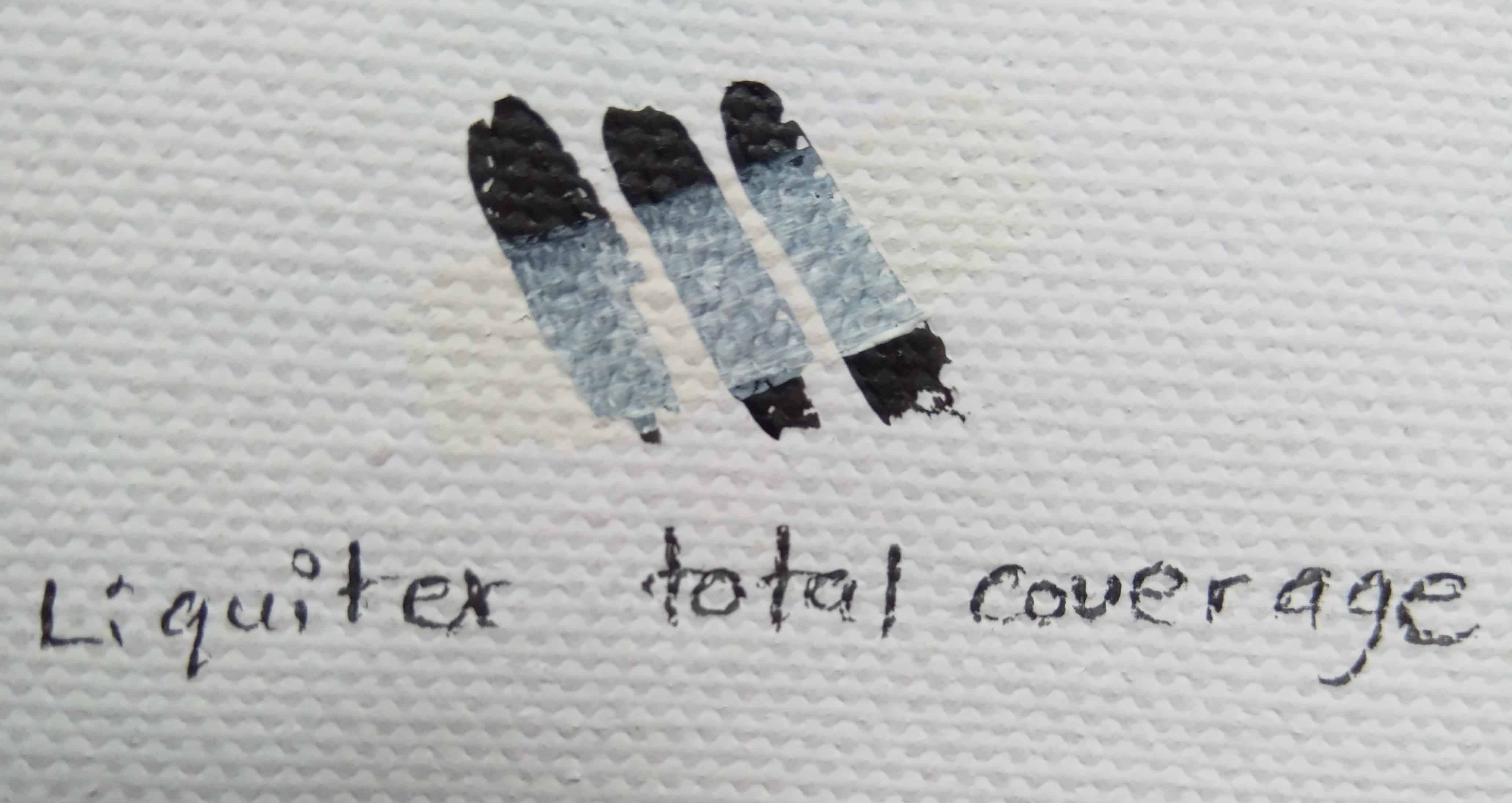 As you know, both pyrrole red and titanium white are opaque single pigmented colors. So they must have the highest opacity in the Liquitex Basics range for single pigments. However, the coverage is not superb but it has a very decent coverage compared to the craft acrylics I have used before.
The titanium white is not opaque when painted on black stripes but its coverage is very impressive as you can see from the image above. Titanium white from Liquitex is certainly a go-to option rather than using very transparent white from a low-quality brand.
The high quality the white is, your paintings will dramatically improve. As an example, you can make any color opaque by mixing it with titanium white easily. Likewise, when you are mixing two opaque colors, the mixed color will be opaque.
I have written previously about why your acrylic paint may not be covered well in an article discussing all sorts of acrylic painting questions. You can check that article from the following link: Common acrylic paint questions and answers you need to know
Below I have included the opacity information of single pigmented colors of Liquitex basic range which are worth buying.
Color
Opaque
Semi-opaque
Transparent
Brown

Raw Umber
Burnt Umber
Green

Phthalocyanine Green
Black

Ivory Black
Mars Black
Titanium White
White

Titanium White
Yellow

Yellow Oxide
Transparent Yellow
Violet or magenta

Dioxazine Purple
Quinacridone Magenta
Orange

Red

Pyrrole Red
Naphthol Crimson
Primary Red
Transparent Red
Blue
Ultramarine Blue
The opacity of Liquitex Basics Acrylic colors
Color mixing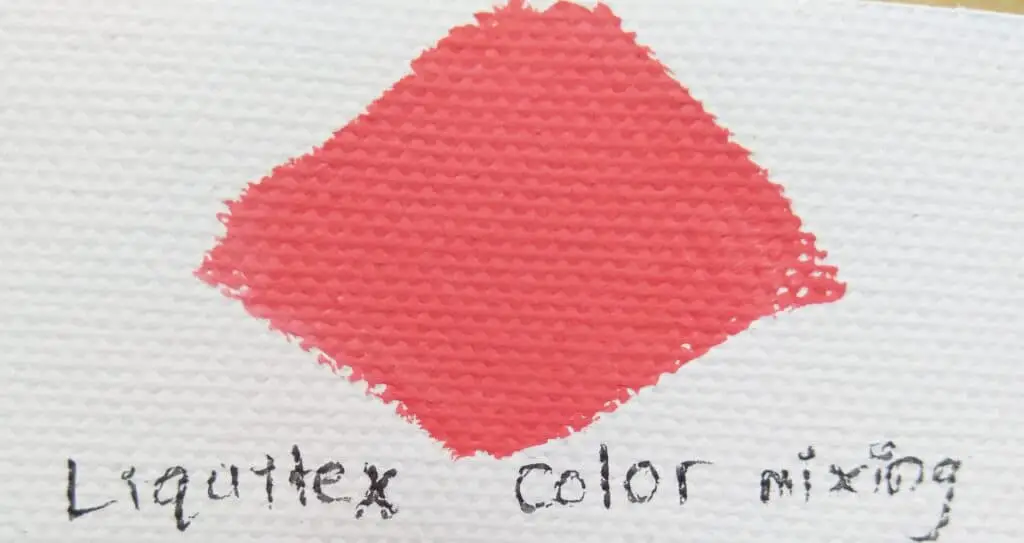 I mixed titanium white and pyrrole red to check color mixability. The color mixing is also very impressive. It yielded a vibrant pink color which is not muddy at all. Since I have mixed two opaque colors, the pink is also very opaque and has excellent coverage.
So you will only need to buy a simple color palette of paints and mix them to make any paint you like. I have mentioned in a previous article what colors you will need to get started with painting. Following is the link to that article and you can check it out: 13 Reasons why acrylic painting is good for everyone
Drying qualities
Liquitex basics dry to touch within 10 to 12 minutes. If you applied it very thinly it may dry to touch within a second or few minutes. Since it dries quickly as most other acrylic paints, layering will be easier.
You can increase the drying time by mixing it with Liquitex slow-dri medium(Link to view on Blick Art Material: Liquitex Fluids Slow-Dri Medium). It will increase the drying time by 40%.
The most inexpensive way to keep the paint wet longer would be using a stay-wet palette, which you can make by yourself easily or by buying one. (Link to view Masterson Sta-Wet Premier Palette on Blick art Material)
Texture and consistency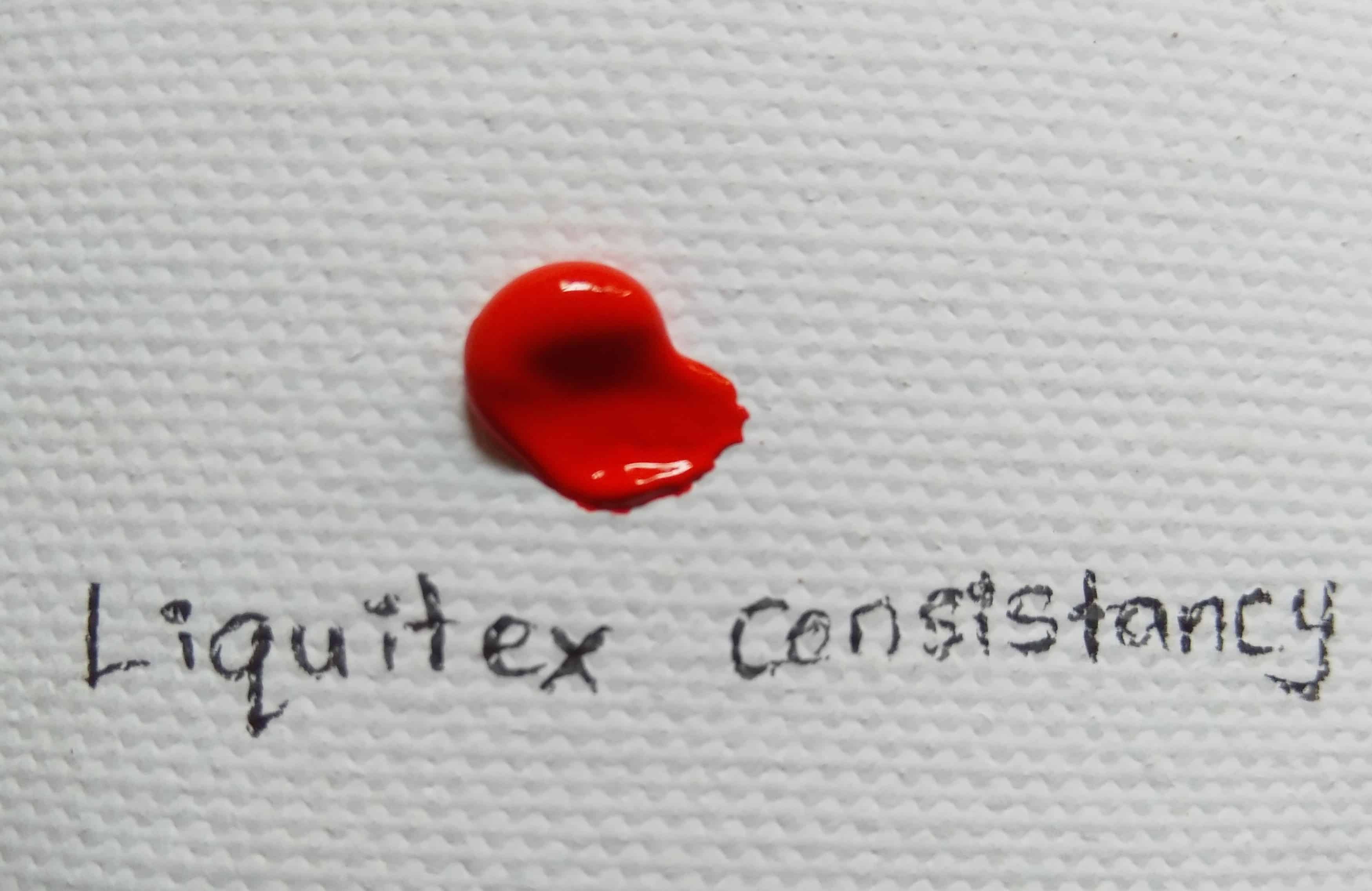 Liquitex Basics is a medium viscosity paint and it is not very flowy. Also, it does not have a creamy buttery consistency as it is a medium-thick paint. It does not belong to the heavy body or soft body acrylic paint category.
It has a slightly chalky or coarse texture which I like very much. Also, it feels like the paint is loaded with more pigments, unlike low-quality paints.
Finishing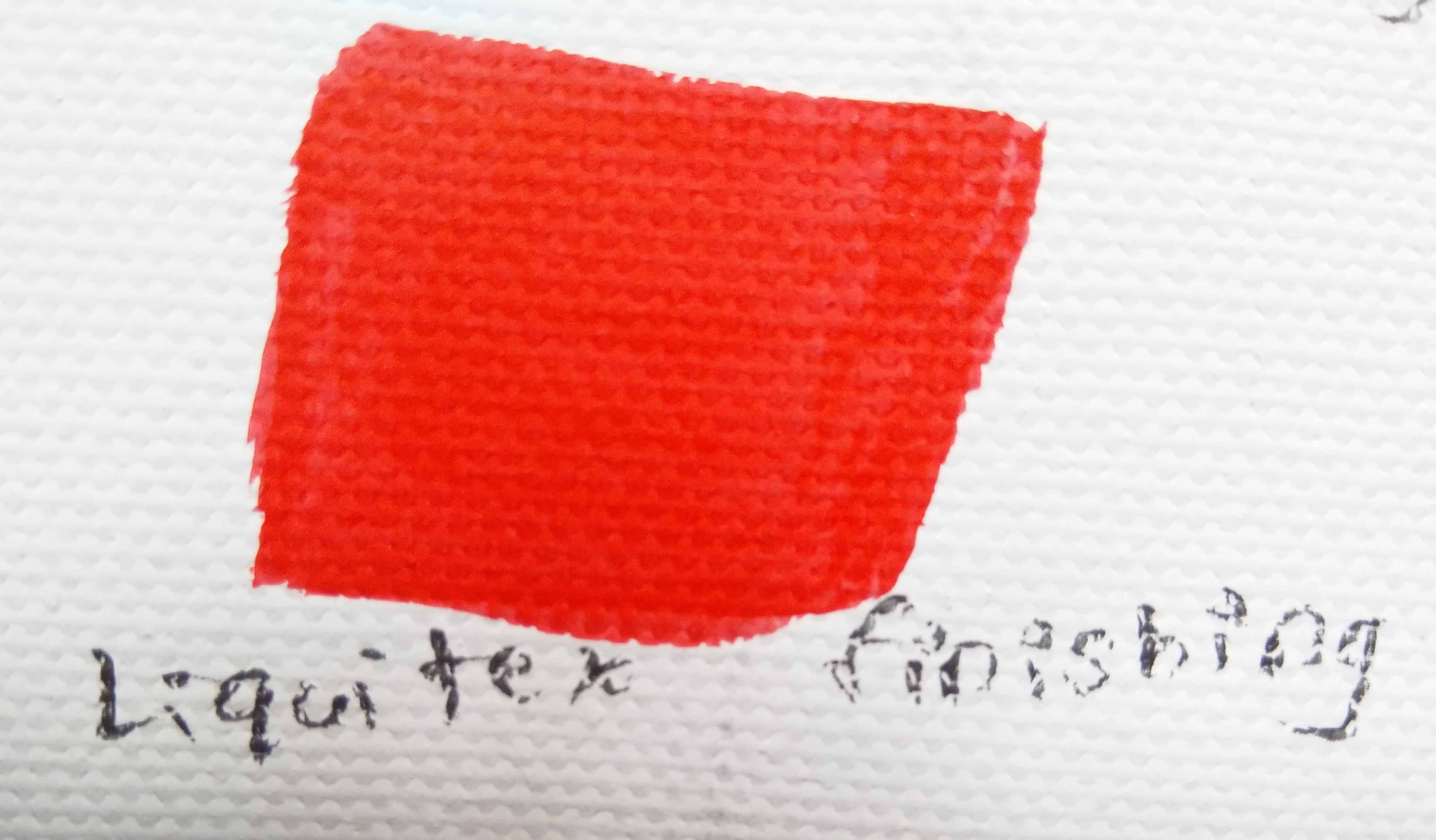 Pyrrole red from Liquitex basics has a very matte finishing to it. But titanium white has a slight sheen. Acrylic paintings when dry normally have a slight sheen. This might differ from color to color. Although pyrrole red has a matte finishing it is okay with me.
If you want to add sheen to the final piece, you can varnish or apply an acrylic clear coating to the painting to bring all the colors together. For acrylic clear coating, the best brand I like is Krylon. As a varnish, You can use Liquitex Basics Acrylic Varnishes (link to view on Blick Art Materials).
Thinning with water
Here I have looked at how Liquitex basic colors performed with more water added. I have painted swatches of pyrrole red to see the effect. In the below image, the first swatch on the left is painted straight out of the tube. To the right, I have painted swatches adding more and more water.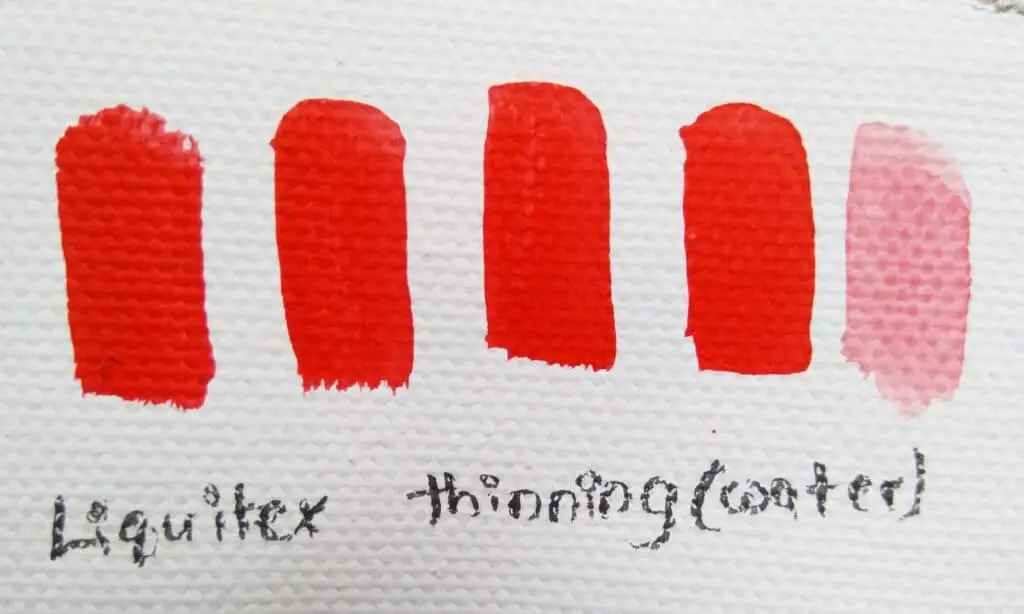 As you can see, although more water is added to each swatch the swatches remained saturated with pigment without reducing the color until I add a lot of water and painted a swatch (first swatch on the right). This means Liquitex Basic colors are saturated with more water and with little paint you can do more.
If you want to have a wash of paint (a very transparent paint layer), you need to add up to 80% water to the paint.
Lightfastness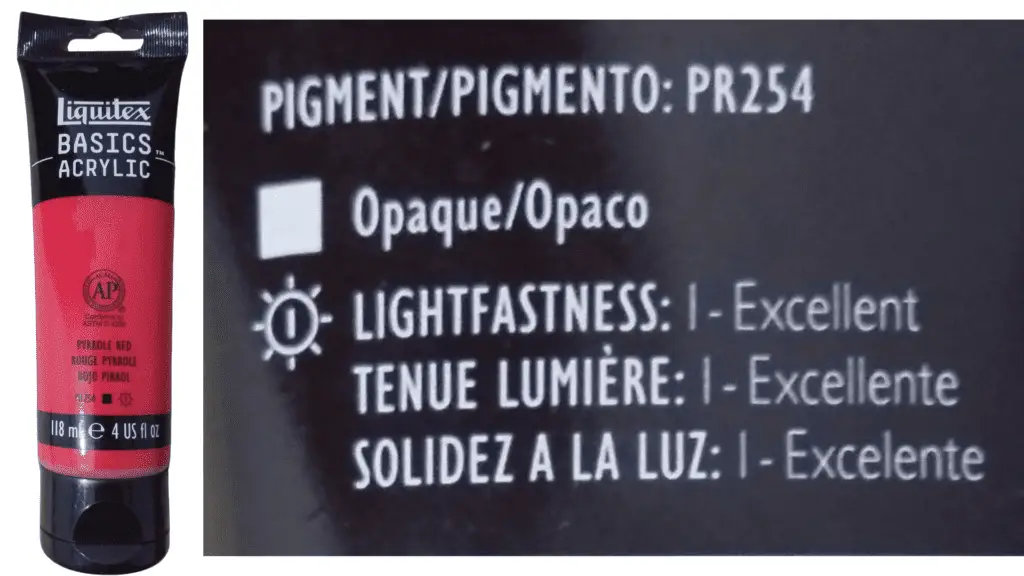 Liquitex basic colors have good to excellent lightfastness, just like Liquitex professional colors. This is because they use the same pigments used in professional acrylic colors but with a lighter load. The paintings will have a great archival quality.
There are different lightfastness categories according to the American Society for Testing & Materials (ASTM) scale. Liquitex basics have lightfastness I or II which means excellent and very good lightfastness respectively.
You can check the lightfastness of the paint tube on the label. Both pyrrole red and titanium white have excellent lightfastness. Meaning the painting will not be yellowed over time and have great archival properties. All Liquitex basic colors have either very good or excellent lightfastness except for the ones that have not been evaluated for their lightfastness. (e.g. Metallic colors)
Permanence
Acrylic paint is permanent after drying. Meaning it cannot be redissolved in water after drying. This is the same with Liquitex basics. As Liquitex basics are made with lightfast pigments they will be durable, UV resistant, nonyellowing, withstand color shifting or fading and have the best archival quality possible.
It is best to use lightfast paint that is archival like Liquitex basics rather than using craft quality paint. You can find the permanence or lightfastness information of the paint on the label. If you do not have that information on the label means the paint is not tested for those properties and will not be archival in the long run.
Liquitex basic colors are considered permanent and lightfast for 50 to 100 years in the gallery conditions. It means it has been lightfast and permanent since its invention in 1955 and it will continue to be the same for many years.
Accessibility
Liquitex basics can be purchased in different sizes and it is available in most art stores. You can buy Liquitex basics from 0.34 fl oz tubes to 32 fl oz tubs. The smaller ones are only available in tubes and sets. Usually, you will find single Liquitex basics colors in 4 oz tubes.

The 4 oz tube is large. One little caveat with the tube is we tend to take more paint out than we need. There is a solution for that. you can use a palette knife and squeeze little paint onto the palette knife and transfer it to the palette. You can also buy smaller sizes of Liquitex basics in sets.
My advice is, when choosing paint, buy a simple color palette of individual colors that you need to paint. The simple color palette may contain titanium white, cadmium hue medium, permanent alizarine crimson, ultramarine blue, and burnt umber.
Price
Following is the price of 1oz Liquitex basic paint of different size tubes and sets. The table contains the prices of Liquitex Basics on Blick Art Material.
| | | |
| --- | --- | --- |
| Size of paint tube or set | Size | Price (USD) per 1 fl oz |
| Basics Acrylic, Set of 72 | 0.75 oz (22 ml) | 1.35 |
| Basics Acrylic, Set of 48 | 0.75 oz (22 ml) | 1.39 |
| Basics Acrylic, Set of 36 | 0.75 oz (22 ml) | 1.54 |
| Basics Acrylic, Set of 24 | 0.75 oz (22 ml) | 1.95 |
| Basics Acrylic, Set of 12 (pots) | 0.14 oz (4 ml) | 5.73 |
| Basics Acrylic, Set of 12 (tubes) | 4 oz (118 ml) | 1.12 |
| Basics Acrylic, Set of 12 | 0.75 oz (22 ml) | 2.25 |
| Basics Acrylic, Set of 9 | 2.5 oz (75 ml) | 1.71 |
| Basics Acrylic, Set of 8 | 2.5 oz (75 ml) | 1 |
| Basics Acrylic, Set of 6 | 4 oz (118 ml) | 0.86 |
| Basics Acrylic, Set of 6 | 0.75 oz (22 ml) | 2.13 |
| Basics Acrylic, Set of 5 | 2.5 oz (75 ml) | 1.28 |
| Basics Acrylic, Set of 5 | 2.5 oz (75 ml) | 1.55 |
| Basics Acrylic single tube | 4 oz (118 ml) | 1.27 |
Liquitex Basic paint tube and set prices
As you can see you get the best value for your money by getting Basics Acrylic, a Set of 6 which has 4 oz tubes (link to view on Blick Art Material). It has Titanium White, Primary Yellow, Primary Red, Phthalo Green, Primary Blue, and Mars Black colors. These colors are very good options to get started with.
The other best option is using a simple color palette with single 4 oz tubes. The simple color palette may contain titanium white, cadmium yellow medium, permanent alizarine crimson, ultramarine blue, and burnt umber.
Final thoughts
Liquitex Basics is a great option for artists who are just starting, who want to explore acrylic paint, and looking for budget-friendly acrylic colors that offer great quality. It is a good choice for your money certainly compared to craft acrylic paint and not as excellent as artist-grade acrylic paint. It is the middle ground for artists to settle on.