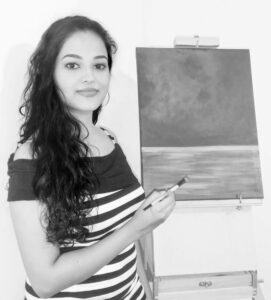 Dilini is the main author at 'PaintingGal.com', where she shares her experiences, passion, knowledge, and secrets to creating beautiful paintings. She does this by experimenting or discussing with experts in the industry. She answers many questions from fellow acrylic artists on the blog 'paintinggal.com' to help with their painting journey.
I started painting in my school days as far as I remember. The first art medium I used was watercolors. I had that natural feeling for art those days and created some beautiful art pieces with watercolors. As I studied art at school as a subject, I got to know about the amazing art history.
After graduating from college, again my love for art and painting came to life. I started with acrylic paint this time. As I am a self-taught artist, I had to learn a lot when painting with a new medium. But I was able to find the right answers with the help of other experts and through trial and error.
I would love to share all things I have learned about painting. Now, I can do that through PaintingGal.com. Even if it feels like an odd painting question you feel shy to ask in a community, a how-to guide to painting, color mixing, or comprehensive beginner painting guides, we have got you covered. I love answering all your questions and making painting easier and more enjoyable.
Dilini
Main author at PaintingGal.com