Recently I got interested in face painting and wondered if acrylic paints can be put on my face. To clear my doubts I contacted a few acrylic paint brand manufacturers and asked them if acrylic paint can be put on the face and whether it is safe. Here is what I got to know.
Acrylic paints are not recommended to use on the face or skin because of containing ammonia as a stabilizer and biocides as preservatives. These can cause allergic skin reactions in those who are sensitive. It is recommended to use only cosmetic-grade face paints regulated by FDA to ensure safety.
Although acrylic paint seemed like a cheap and convenient choice, it should never be used for face painting. There are decent-quality affordable face paints that you can buy, which will be further discussed in this article.
Can you put acrylic paint on your face?
Face or body painting has been there for a long time. You may need it for cosplay, gatherings, birthday parties, concerts, dramas, and theater performances.
I asked Golden, Daler Rowney, and Ateza acrylic paint manufacturers if they recommend using acrylic paint on the face. Here is what they say about that.
Our System 3 Acrylic paint is not meant to be used on the face. This could cause contact with the eyes, skin, ingestion, and a lot of inhalation which could require medical attention. If you are looking to use paint on your face, I recommend face paint, specifically designed to use on your face.

Holly Birmingham from Daler-Rowney
We cannot recommend using any of our products on the skin. Absolutely not.

Scott Bennett, Materials Specialist for Golden Paints
Even though our acrylic paint is non-toxic, it's not considered cosmetic grade. My recommendation would be to search for a paint that is designated for face painting and has a cosmetic grade certification.

John M from ARTEZA
So, none of the artist paint manufacturers I contacted recommend using acrylic paint on the face or skin, even if they were marked as non-toxic. They all asked to look for face paints that are cosmetic grade and have cosmetic grade certification.
However, I have seen some people use acrylic paint on faces as makeup. They may or may not get any allergic reaction from doing that. But the things inside acrylic paint are not meant to be put on the skin. You can have a skin breakout. It is not a cosmetic grade. Therefore use only certified cosmetic-grade products on the face to anywhere on the body.
Even though you put acrylic paint regardless, it will not have vibrancy and blend-ability like cosmetic grade face paints. Acrylic paint will have a hardened plastic nature on your face which is undesirable as face paint.
Acrylic paint is made from all chemicals that are not meant to be on the face such as acrylic polymer binder, paint extenders, and mineral pigments such as cadmium, cobalt, preservatives, emulsifiers, and stabilizers.
I have written a whole article about 'Using Acrylic Paint on Skin: Composition and Safety Issues'. You can find the detrimental compounds that can be in acrylic paints and the effect of skin exposure to acrylic paint there.
I have written an article series about common acrylic paint questions and answers: part 1 and part 2. You can find answers to questions like this in the articles even before you face them.
Is It safe to use acrylic paint on the face?
It is not safe to use acrylic paint or other water-based art materials on the face as they may contain preservatives such as biocide compounds and stabilizers such as ammonia which cause skin irritation to those who are sensitive. There can also be harmful pigments such as cadmium or cobalt in paint.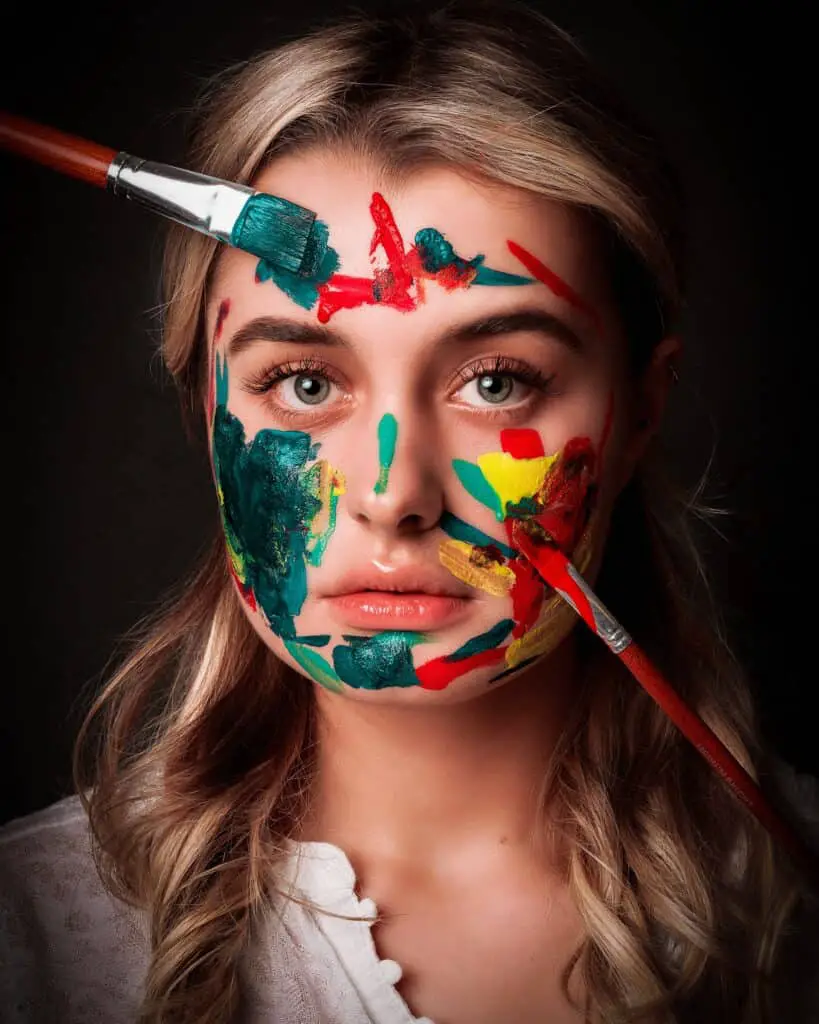 Water-based artist products are prone to micro-organism growth because they contain water. Water and air are two mediums that promote microorganism growth such as molds.
Therefore acrylic paint manufacturers add a small number of preservatives such as biocides. Biocides can cause skin or respiratory irritation for those who are sensitive to them. Biocides can be in the family of isothiazolinone or they can be formaldehyde.
This is the same with stabilizers. Acrylic paint may contain a small amount of ammonia as a stabilizer. This can cause respiratory or skin irritation.
Therefore if you are found to be sensitive to biocides or ammonia it is necessary to take proper precautions when handling any water-based art products such as acrylic paint, acrylic mediums, or acrylic varnish.
To ensure safety, cosmetic-grade products are certified and regulated by FDA (Food and Drug Administration). However, artist-grade paints are certified and regulated by the Consumer Product Safety Commission (CPSC) which does not account for the safety of the material on the skin.
What the Consumer Product Safety Commission (CPSC) says about acrylic paint…
According to CPSC water-based acrylic paint can contain small amounts of ammonia as a stabilizer and formaldehyde as a preservative. These chemicals can cause respiratory irritation. If you are sensitive to these chemicals it can cause allergic reactions as mentioned before (source).
However acrylic paint is way better than oil paint and solvents that produce toxic fumes. These solvents include xylene, toluene, turpentine, and methyl ethyl ketone. But oil paints do not contain irritative preservatives to stop microbe growth as there is no water for microbes to grow.
Can acrylic paint be used on the skin, body, hands, and nails?
Acrylic paint should not be used on the skin or anywhere in the body including hands and nails. This is due to preservatives, stabilizers, and possibly harmful pigments such as cadmium in acrylic paint. Use only cosmetic products that are properly tested and certified for body painting to ensure safety.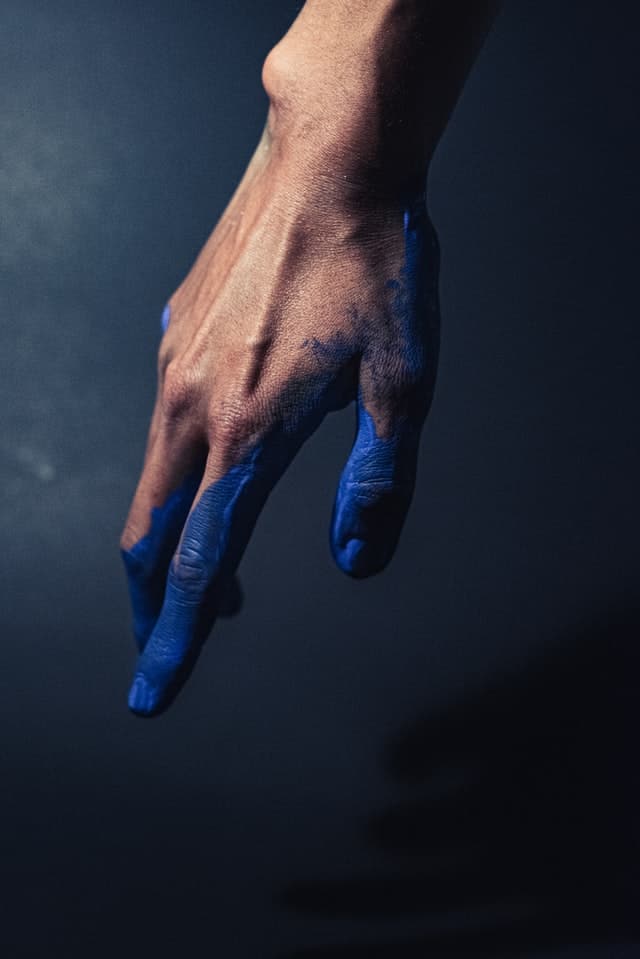 One of the important things is washing off acrylic paint as quickly as possible after an art session. Do not leave paint anywhere on your body. The more time acrylic paint sits on the skin, the more chance it can cause irritations if you are sensitive to those chemicals.
Acrylic paint is okay to be used on fake nails as it does not have direct contact with the body parts. But the area around your eyes is very sensitive. Therefore you should not ever put acrylic paint around the eye.
Even when using cosmetic grade face paint, check specifically if they are approved to use around the eyes. Because paint that is okay for other body parts may not be okay for the area around the eyes. Do not use that paint around the eyes even if there are pictures of kids wearing the paint near the eyes on the packaging.
I have written a whole article about 'Can acrylic paint cause cancer? (Risks and precautions)'. You will find an in-detail guide on toxins in acrylic paint and best practices for using acrylic paint there.
How to make acrylic paint safe for the skin?
Acrylic paint cannot be made safe for your skin or any body parts. Because it will always contain chemical preservatives like biocides as well as some harmful pigments like cadmium. Use only cosmetic-grade paint on the skin. Wearing gloves is a good practice when using acrylic paint.
As acrylic paint cannot be used on the skin, it is important to avoid contact with it as much as possible. Of course, acrylic paints are non-toxic, but also they are not tested for the use on skin and therefore do not have any cosmetic grade certification.
I have written a whole article about, 'Is acrylic paint harmful? (In different routes of exposure)' There you will find the extent of harmfulness in different routes of exposure to acrylic paint. You can become a successful, informed artist with no adverse effects from using a chemical to create beautiful art.
How to remove acrylic paint from your face and skin?
As of now, you know it is not recommended to put acrylic paint on the face. If you have already got acrylic paint on the skin here is how to remove it.
Step 1: Act fast to remove acrylic paint- Acrylic paint dries fast and hardens quickly. Therefore you need to act fast to remove it while it is still wet. Even if it dried out, still you need to hurry up and remove it from the skin. As acrylic paint can cause allergic reactions.
Step 2: Wash with warm water- Warm water can loosen up just dried acrylic paint and the ones that have not been dried yet.
Step 3: Use soap to wash- Wash the area with acrylic paint with some soap and water. Rub the paint with pressure. This will help to get rid of most paints. Repeat this process until most of the paints have come out.
Step 4: Rub oily body lotion, baby oil, or vegetable oil onto the hands. Try to scrub away any remaining acrylic paint. It will come off very easily with the oil added.
Tip: Apply the oily body lotion or baby oil before starting painting, if you want to reduce the messy hands after an art project. This will allow you to scrub the paint away very easily. The below video on youtube will explain to you how to remove acrylic paints from your hands.
Make sure that you do not use any mineral spirits or turpentine to clean acrylic paint.
I have written a whole article about washing off acrylic paint from several different surfaces. You will learn exactly how to remove acrylic paint from each surface, especially with alcohol and water in detail there.
What paint is safe for the face?
Cosmetic-grade FDA-approved face and body paints are safe and best to use on the face. Make sure the face paint does not have a bad smell which is an indication of contamination. Replace the contaminated facepaint with a new one. Be cautious when using face paint near the eyes.
When you are using anything on the skin that you have never used before, make sure to do a test for allergic reactions on the skin before doing the actual artwork. You can do this by applying a cosmetic product you want to test on the back of the ear and leaving it overnight.
This is especially important if you have allergic reactions to any other materials. These cosmetic products are regulated by FDA. Therefore the color additives used in those paints need to be approved by FDA.
You can check the 'Color Additives Approved for Use in Cosmetics' on the FDA website. If the color additives listed on your face paint label are not included in this list do not use that face paint.
What kind of paint can you put on your face?
There are different cosmetic-grade paints out there. However, the best-suited face paint can differ according to your needs. Below I have described what face paints are best according to your needs.
Best face paints for both beginners and professionals
I asked in a community what are the best face paint brands to get and any other accessories I will need to start face painting. The following are the things I have found from their answers.
The best brands you can get as a beginner or as a professional face painter are Mehron, FAB, and Superstar. Party Xplosion, Kraze, Diamond FX, and Wolfe FX are all exceptional for line work. Get a waxy white and black for line work.
Other than these Global colors, Fusion, TAG or Kryvaline also will work just fine. Mikim FX, FAB, or Superstar are best for metallics or shimmers.
Each of these brands falls into different categories of face paint. These categories are waxed-based paints, liquid paints, grease-based paints, glycerin-based paints, and so on.
For your first face painting projects start with glycerin-based (Superstar, or Paradise), paraffin-based, or Acacia Senegal gum-based paints (Diamond FX, Wolfe FX, Fusion, and TAG ). All these paints are water-soluble, meaning they can be activated with water.
When you are a beginner what I recommend is not to start with cheaper products that are low in quality. They are usually dull in color and have less coverage. You will struggle with low-quality paint and may wonder why others' face paintings are vibrant and beautiful while yours are not.
Colors you will need…
You can buy the most needed colors from the above brands. Following are the colors you need to have as a beginner face painter: White, black, red, orange, green, yellow, blue, brown, pink, and purple.
Other supplies needed for face painting
To get started with face painting you will need a few other materials. Following are the accessories you will need to get started with face painting.
Pink petal sponges
Round sponges
Flat and angled brushes in sizes 1", 3/4", 1/2", & 5/8"
Round brushes in sizes 2,3,4,5,&6
Petal brushes in sizes 6,8,10,&12
Cosmetic grade glitter
If you are in doubt about getting started with face painting, one of the best places to go would be 'Art Factory'. You can buy all the products I have mentioned above and even get any of your face painting questions answered by visiting their website.
How to do a simple face painting?
Now that you know all the materials needed for face painting, let's get started painting. You will see how easy it is to do a face painting with cosmetic grade face paint, and how vibrant and beautiful it looks. You will never have to go back to unsafe acrylic paint for face painting.
Below is a youtube video that explains step by step process of how to do a simple face painting.
Conclusion
Although acrylic paint seems like a cheap and convenient choice it is not tested for safety to use on the skin or face. They contain a small number of biocide as preservatives and ammonia as stabilizers that can cause skin and respiratory irritation. Anything you use on your face or skin needs to be cosmetic grade and be regulated by FDA. Therefore choose cosmetic-grade face paints made specifically for that purpose. They will give you the best results with safe, beautiful, and vibrant designs.