As an acrylic artist, I know that creating a masterpiece takes a lot of time and effort. However, once the painting is completed, the next step is finding the right place to sell it. With so many options available, it can be overwhelming to know where to start. That's why I have put together a list of the 14 best places to sell acrylic paintings, along with top tips to help you get the most out of your sales.
The first thing to consider when selling your acrylic paintings is your target audience. Are you targeting collectors, interior designers, or the general public? Once you know who you're trying to reach, you can start to explore different sales channels. From online marketplaces to local art shows, there are many avenues to consider.
Another important factor to keep in mind is pricing. Determining the right price for your acrylic painting can be tricky, but it's essential to find a balance between what you think your art is worth and what people are willing to pay. Remember to take into account the cost of materials, your time, and the uniqueness of your piece. With these factors in mind, you'll be able to set a price that's both fair and profitable.
How to sell acrylic canvas paintings?
As an artist, you have many options for selling your art, including galleries, art fairs, online shops, niche websites, and social media platforms. Consider which platform is best for your art and intended audience. Each option has its advantages and disadvantages. Galleries and art fairs are great for showcasing your work in person, while online shops like Etsy and Amazon Handmade allow you to sell online to customers.
To sell your paintings successfully, you need to create a portfolio of your work with excellent photos. This portfolio can be used to promote your art both online and offline, and you can consider using social media, a website, or an online store to sell your art directly to customers. You can also participate in regional art fairs, exhibitions, and galleries to reach a larger audience.
When you sell your art, negotiate the deal thoroughly and be transparent about the cost, shipping, and other details. Protect your painting by delivering it by hand or securely packaging it for delivery. Include a certificate of authenticity with your painting to prove its origin and background. This legal document reassures customers that they are buying an original piece of art.
Furthermore, building a reputation as a trustworthy seller can lead to loyal customers and good reviews, which can help your business grow.
15 Best places to sell acrylic paintings
As a talented artist, you have several options for selling your acrylic paintings. Following are the 15 best painting-selling options for you including a table that summarizes online painting-selling venues.
| Painting Selling Venue (Online or offline) | Cost of Starting Selling/Commissions | Size of Audience of the Platform | Features that Stand Out | Recommendation and Notes |
| --- | --- | --- | --- | --- |
| Etsy | Listing fee ($0.20) and transaction fee (6.5%) | 90 million active buyers | A large community of buyers and sellers, customization options for shops, emphasis on handmade and vintage items | Ideal for selling unique and handmade items, relatively low cost for listing products |
| Amazon Handmade | Referral fee (15%) and closing fee ($1.00) | Over 300 million active users | Integration with Amazon Prime, high-quality product requirements, large customer base | Good for established artists with a strong product line and a desire to reach a large audience |
| Artfinder | Commission fee (30%) | Over 450,000 registered users | A curated selection of high-quality art, international shipping, and artwork rental program | Ideal for artists seeking a platform with a focus on high-quality art and a curated selection process |
| Saatchi Art | Commission fee (35%) | Over two million monthly visit | Art advisory services, free shipping options, curated collections, and artist features | Recommended for established artists seeking to sell high-value artwork and a platform with a strong focus on art curation and advisory services |
| ArtPal | Free to use with optional upgrade fees | Over 240,000 registered artists | No commission on sales, integration with Google Shopping, low-cost advertising options | Ideal for artists seeking a platform with no fees and a wide range of advertising options |
| Facebook | Free to use with optional advertising fees | Over 2.8 billion active users | Integration with Facebook Marketplace, extensive advertising options, potential for virality | Recommended for artists seeking to reach a large audience and willing to invest in advertising to do so |
| Instagram | Free to use with optional advertising fees | Over two billion active users | Visual-focused platform, integration with Facebook ads, the potential for virality, emphasis on influencer marketing | Ideal for artists seeking to showcase their artwork through visually-driven marketing and social media influencers |
| TikTok | Free to use optional advertising fees | Over one billion active users | Short-form video content, emphasis on virality, the potential for wide reach and engagement | Recommended for artists seeking to create engaging, visually-driven content and reach a younger demographic |
| eBay | Listing fee (varies by category) and final value fee (up to 12.35%) | Over 185 million active buyers | Large customer base, integration with PayPal, low listing fees for some categories | Recommended for artists with a wide range of products to sell, including items other than artwork, who are looking for a platform with a broad customer base |
Summary of platforms for online art selling
1. Etsy for a cost-effective and convenient approach
Etsy is an online marketplace where you can directly sell handmade items, including acrylic paintings. Setting up a shop on Etsy is easy and requires you to list your artwork with a description and images, set a price, and select shipping options. While there is a small fee for each item you sell, the user-friendly interface and affordable prices make it a popular choice for many artists.
Etsy has more than 500 million visitors each month. They receive more than 49% of their traffic from direct search, which means that almost half of their monthly visitors enter the URL directly into the search bar. As a seller, you just need to pay a $0.20 flat listing fee and a 6.5% transaction fee to sell on the Etsy platform.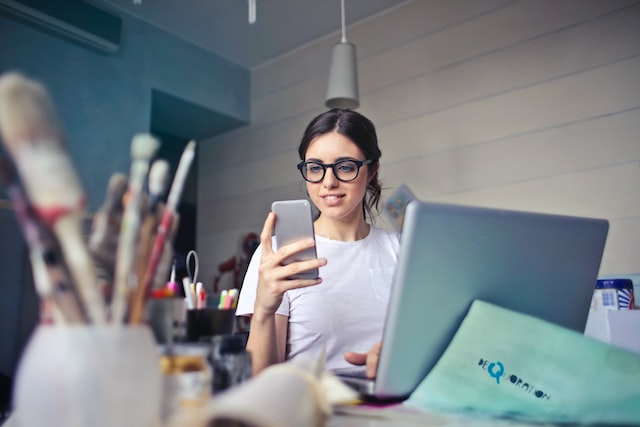 2. Amazon Handmade for a more convenient approach
Another great option for selling your paintings online is Amazon Handmade. This marketplace is well-liked for its focus on handmade and artisanal goods. However, before you can start selling on Amazon Handmade, you'll need to apply and meet their eligibility requirements. Once you're approved, you can list your artwork for sale on the platform.
Even though joining Amazon Handmade, creating your shop, and listing products are free, there is a deduction of the referral fee when you make a sale. The current referral fee is 15% and the closing fee is $1.00.
Despite being a newer marketplace, Amazon Handmade has a strong customer base and is easy to use. It also works well with Amazon's current interface, making it a practical choice for many artists. While some artists may prefer to connect with a more niche audience, others value the platform's ability to reach a larger audience.
3. Artfinder is one of the best online platforms for art selling
Artfinder is a platform where artists can sell their artwork online. It is well-known for displaying high-quality pieces and providing excellent exposure for artists. To start selling your acrylic paintings on Artfinder, you need to register on the platform and list your artwork. You must provide images of your artwork, describe it, set a price, and select shipping choices.
Artfinder will charge a commission fee for each piece you sell on the platform. However, some artists might perceive this fee as higher than other platforms. Currently, it has a 30% commission fee.
This is the best platform to sell paintings online because they created Artfinder to push the market to provide an open marketplace for unique art where anybody can find and purchase it. They are dedicated to overcoming the "starving artist" myth and believe that successful artists and affordable art shouldn't be two different.
4. Saatchi Art with a high-value market
On the Saatchi Art website, artists can sell their original art to customers worldwide. It's a well-liked place for modern artwork, such as acrylic paintings. You need to create an account on Saatchi Art and submit an application to become a seller to start selling. You can use the platform to list your artwork for sale after approval.
Each item you sell generates a commission fee for Saatchi Art. With a focus on selling art, Saatchi Art has a reputation for presenting excellent pieces by renowned artists. However, it has a more expensive commission cost than other sites which is 35%.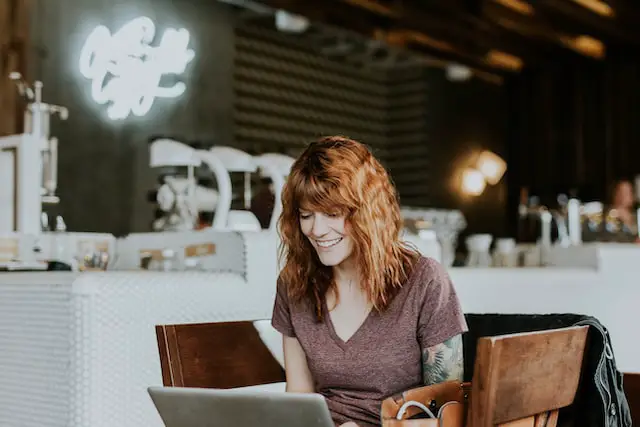 5. ArtPal for a free approach to selling paintings
Anyone can purchase or sell artwork on the internet using ArtPal. It is Ideal for artists seeking a platform with no fees and a wide range of advertising options. A global audience of about 400 thousand is drawn to ArtPal. Art lovers from all around the world may browse the selection and buy the pieces they prefer. You may open an account on ArtPal as an artist and start selling your work in a matter of minutes.
By creating an account on ArtPal.com and uploading their work, artists can register for free. Anyone may join the platform and start selling their work right away because there is no selection process for artists. In other words, there is no membership fee or other commission required to become an art seller on ArtPal. You can try this platform for free if you're new to selling paintings.
6. Art Galleries still holds its glory as a painting-selling venue
Acrylic paintings can also be sold in local art galleries. Contemporary art is a specialty of many galleries, and they welcome the opportunity to present emerging talent. You'll need to research local galleries and contact them to see if they're interested in showing your artwork before you can sell your acrylic paintings through an art gallery.
Most of the time, you'll need to show a portfolio of your work and pictures of your art. Many artists want to show their work in galleries because it can give their work respect and prestige. Also, they offer a physical location where customers can see the artwork, which may be a crucial consideration for some customers. However, gaining acceptance into a gallery can be challenging, so artists might need to put in some effort and spend time cultivating their relationships with gallery owners.
7. Art Fairs help with networking with other artists
At art fairs, you can display and sell your works to potential customers. These gatherings help build relationships and meet prospective customers. You must apply as a seller and rent a stall to sell your acrylic paintings at an art fair. You should bring your artwork to the event so customers can view it.
It's a great chance to meet possible clients and show off your work in person. However, attending an art market can be costly, and artists may have to cover expenditures like stall rental, transport, and other expenses.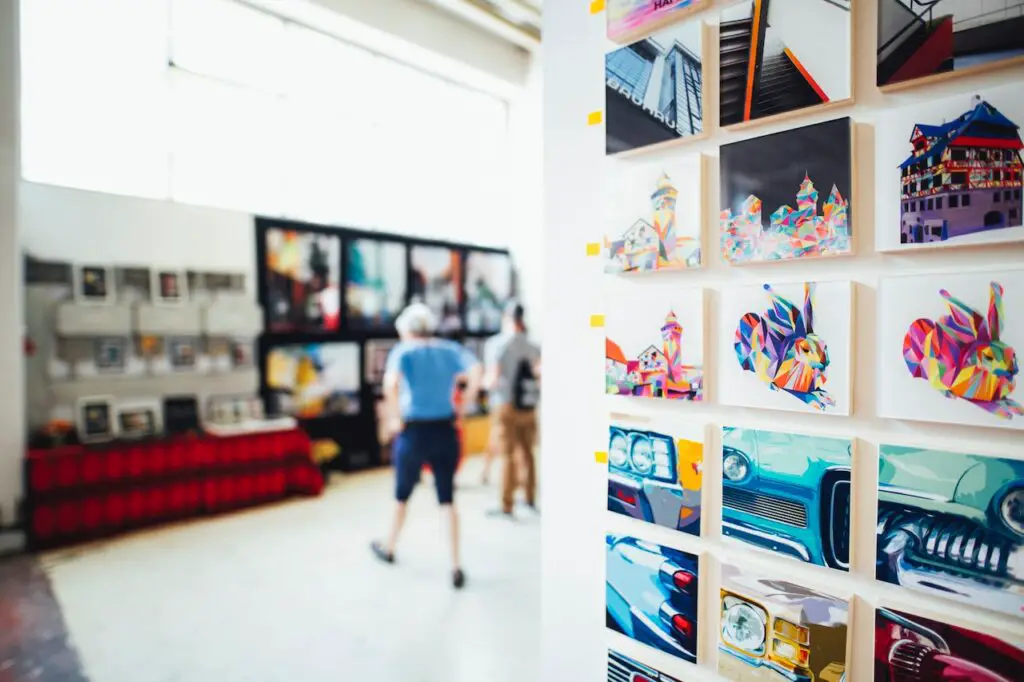 8. Cafes and Restaurants catches a different set of audience
Some cafes and restaurants allow local artists to show and sell their work, providing an excellent opportunity to reach a broader audience. To sell your acrylic paintings in a café or restaurant, you must contact neighborhood businesses to determine whether they're interested in showing your artwork. Usually, you'll have to provide a portfolio of your work and images of your artwork.
Hanging your artwork in cafes and restaurants might be a more economical option for artists who want to present their work in a physical venue. However, the audience may be smaller, and artists may need to work out a deal with the space owner.
9. Flea Markets offer a relaxed environment for selling
Flea markets or street markets are occasions where sellers can offer a range of goods for sale, including art. You can connect with potential buyers and sell your artwork. You must rent a stall and attend the event with your artwork to sell your acrylic paintings at a flea market.
Flea markets may provide artists with a more relaxed environment to sell their paintings. They draw a different type of customer base than other venues. Yet, there can be a significant range in the quality of the art sold at flea markets, which may influence how others view one artist's work.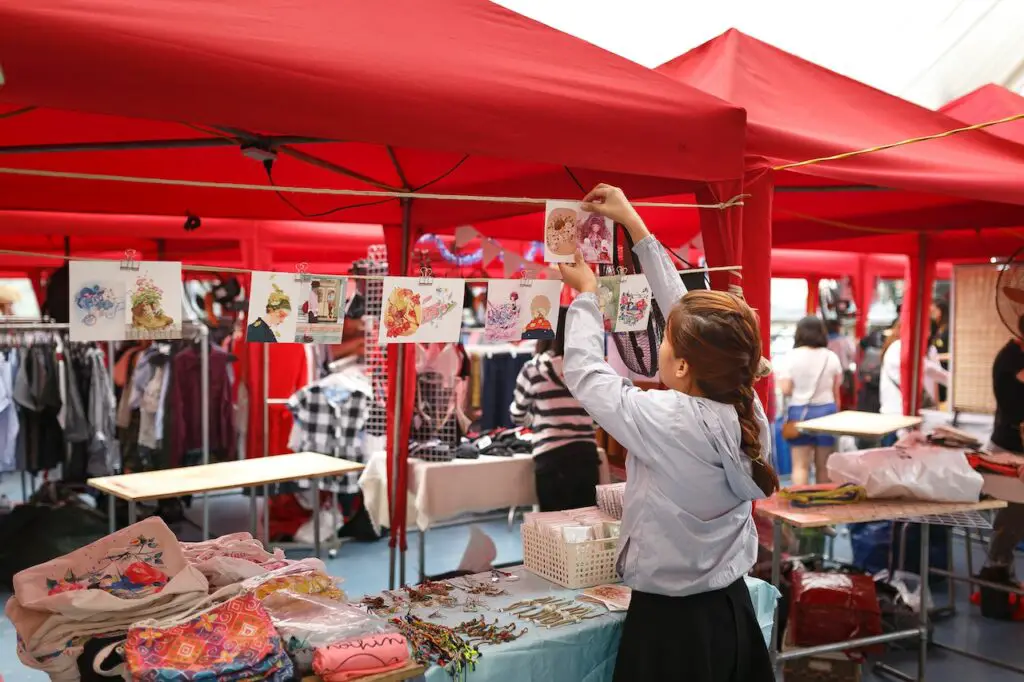 10. Facebook Marketplace offers extensive advertising options
You can purchase and sell products, including artwork, on the Facebook Marketplace. It's a well-liked platform for small-town sales and can help you build relationships with local customers. You must create a listing for your artwork, specify a price, and list your acrylic paintings on Facebook Marketplace. Then, you can make plans for local pickup or shipping after contacting potential customers.
Local artists may find it simple to sell their creations on Facebook Marketplace. Yet, the platform might not be as specialized as other art-selling platforms, which could impact how much people think an artist's work is worth.
11. Instagram as a visually rich social media platform
Instagram is a popular social media site for creatives, and it is an excellent way to reach potential customers and promote your artwork. To sell your acrylic paintings on Instagram, you must register as a business user. You can connect with potential customers through hashtags and direct them toward your website or online store.
Instagram has more than 2 billion active monthly users and an 18% return on investment from B2B and B2C marketing perspectives. So Instagram become the best visually appealing social media platform for promoting art.
12. Tiktok for short video content to promote a brand
Many artists use TikTok a social media platform to promote their artwork. You can reach a global audience, publish your finished artwork, and record videos of yourselves producing art. For artists trying to develop their brand and expand their audience, TikTok's algorithm is known for its capacity to fast spread content and make it go viral. After developing a following on TikTok, several artists have noticed an increase in the demand for their artworks.
It's important to remember that while TikTok might be a useful tool for artists, it cannot take the place of a specific online market or portfolio website. A separate platform for payment and shipping must be set up by an artist if they want to sell their work. TikTok, however, can be a fantastic strategy to increase traffic to these sites and build a potential customer base.
13. eBay has a broader customer audience
As an artist or art seller, you can use online platforms like eBay to reach a wider audience and sell your artwork. eBay provides a great opportunity to showcase your acrylic paintings to a vast customer base, including art collectors and enthusiasts. To sell your artwork on eBay, you need to list your paintings and determine a suitable price that reflects their value.
While eBay may be more geared towards cheap goods, artists can still benefit from the platform's vast customer base. However, due to this perception, some customers may not value artwork as much as it deserves. Despite this, eBay remains a cost-effective and viable option for artists looking to sell their work to more people.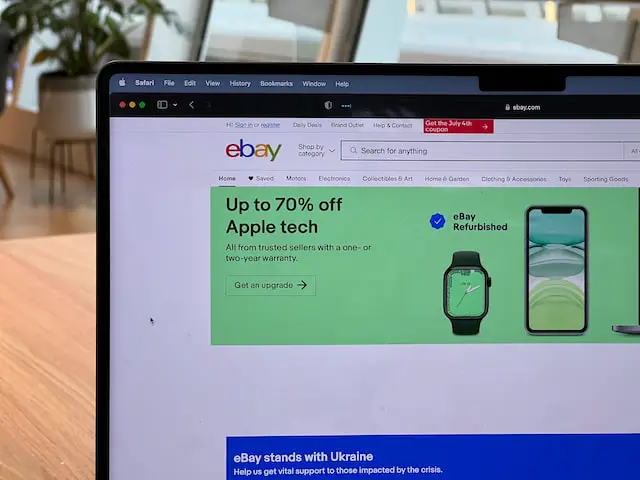 14. Portfolio/ website to showcase your art independently
Creating a portfolio/ website is a great way for artists to promote their art and connect with potential customers. On your portfolio/ website, you can display your acrylic paintings, write about your inspiration and process, and sell your artwork directly to customers. Additionally, you can promote your art through email and social media to reach even more people.
Selling your paintings on your portfolio/ website provides you with greater control over the sales process and allows you to build your brand. However, building and promoting a website can take time and money. While you can reach many people with a larger platform like eBay, having your website can be a valuable asset in establishing your presence as an artist online.
You can easily collaborate with Shopify the all-in-one eCommerce platform that builds for independent business owners. You can simply build a website to sell your art without any coding knowledge and promote your art through various channels within Shopify. 
15. Street Vending for quicker sales
If you're looking to sell your acrylic paintings, one option you may want to consider is selling them on the street. Street vending can be a great way to connect with potential buyers, get immediate feedback on your art, and make some quick sales.
Before setting up your booth, it's important to research your local laws and regulations around street vending. Some cities require permits or licenses to sell on the street, and you'll want to make sure you comply with any rules and regulations.
Once you've got the legalities sorted, it's time to set up your booth. Make sure you have a table or easel to display your paintings and consider bringing a portfolio or samples of your other work to show potential customers. Be sure to price your paintings appropriately, and have a way to process payments, whether it's through a mobile payment app or cash. With a little preparation, street vending can be a great way to sell your acrylic paintings and connect with potential buyers in your community.
Where to sell expensive paintings?
Selling expensive paintings requires working with trusted experts like art dealers and appraisers. They can help set a fair price and market the artwork well. While selecting a sales channel, it's essential to consider the cost of selling, including commissions and fees. Here are some channels where you can sell expensive paintings:
Auction Houses: Auction houses like Sotheby's, Christie's, and Phillips are frequently used for selling valuable paintings. They have extensive expertise in selling expensive paintings and a worldwide buyer network, which allows them to command premium prices for priceless artwork.
Private Galleries: Premium galleries specializing in well-known artists are also a great option for selling expensive paintings. These galleries have a reputation for selecting high-quality pieces and have a network of investors in high-end art, which can help you get the right buyers for your artwork.
Private Sales: Selling expensive paintings privately through acquaintances or recommendations is another option. This strategy is often used when the seller wants a confidential transaction, but it may take longer to find the right buyer.
Make a Pricing Strategy…
Matt Leblanc, a Canadian painter, has explained his marketing plan for selling his art pieces for a greater price. It is a pricing tactic known as a "loss leader". A product is sold at a cheap price (or even at a loss) to draw customers and encourage them to make additional purchases.
When it comes to art a loss leader is a smaller, less expensive piece of art that is priced below market value in an online art sale to tempt customers to look at the artist's other, more expensive pieces.
To increase sales, he suggests using a loss leader technique in addition to other pricing methods including providing fair pricing information and providing a range of price points. A loss leader plan may not be effective for all artists or all situations, he adds, and it is important to thoroughly evaluate the pros and cons of any pricing strategy before putting it into practice.
How to sell acrylic paintings in stores?
Selling your acrylic paintings in physical stores such as gift shops or galleries is a great method to showcase your work to more people and establish your identity as an artist. So, below I have put together five tips for selling your acrylic paintings in stores. 
Research stores that align with your target market
Finding stores that suit your target market is the first step in selling your artwork at stores. Search for galleries and shops that sell similar types of art to yours and that draw the kind of customers most likely to enjoy and buy your artwork. Visit these stores in person, and talk to the owners or managers about their sales policies and requirements for artists who want to sell their work in the store.
Set prices that are attractive to both you and the store
You should set prices that are fair to both you and the business once you have identified potential stores. You should consider the fact that the shop will probably take a commission on any sales when setting your prices. Think about developing a pricing strategy that accounts for both your labor and material costs and enables you to turn a profit while keeping an attractive price point.
Create eye-catching packaging
When it comes to selling your paintings in shops, packaging can be just as crucial as the artwork itself. Create packaging that draws the eye and best showcases your paintings. This can include taking excellent, expert images of your artwork, creating labels or tags with details about the painting and your contact information, and selecting packaging materials that are both visually appealing and protective of your paintings.
Build relationships with store owners and managers
Your success in selling your paintings in stores may depend on how well you can get along with the managers and owners of the stores. Spend some time getting to know the owners of the stores you are interested in, and be prepared to respond to any inquiries they may have about your work or your charging structure. Regularly offer to bring in fresh paintings, and be alert to their advice and feedback.
Be persistent and patient
Furthermore, keep in mind that it may take some time and effort to sell your paintings in stores. If sales don't come in right away, try not to become upset and be prepared to change your method as necessary. Generate fresh artwork and build connections with store managers and owners. You may establish a profitable career as an artist with more time and work.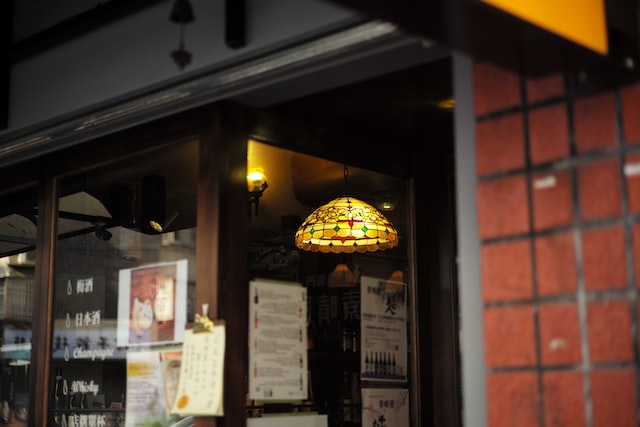 Tips for selling acrylic paintings
Do Market research: Identify possible customers/ clients for your acrylic paintings by conducting market research. You can better target your marketing efforts and set the right pricing for your artwork by knowing who your target market is.
Choose the ideal place to sell artwork: Choose the online or offline art marketplace that best suits your needs and interests by doing some research and comparing options like Etsy, Artfinder, Saatchi Art, art galleries, etc.
Take stunning photos: Take high-resolution photos of your artwork with a quality camera or smartphone. Ensure that the photographs are high quality and the lighting is appropriate.
Provide detailed and accurate descriptions: Give thorough descriptions of your artwork, mentioning its size, medium, and any unique characteristics. This will enable potential customers to make well-informed choices about buying your artwork.
Set a fair price for your artwork: Do some market research on your painting's value, then set a fair price. Be mindful of transaction fees, shipping charges, and material costs. To appeal to a larger audience, think about providing a range of price points.
Use social media to market your art: Use sites like Instagram, Facebook, Pinterest, and Twitter to display your work and get in touch with potential customers. To gain a following and expand your reach, use relevant hashtags and interact with your fans.
Create your brand: Doing so can help you stand out in a competitive market. To establish a brand identity that matches your artistic vision, think about creating artwork of a theme and create unique art pieces.
Make positive relationships with customers: Be kind and professional in all of your interactions with customers, and respond to questions as soon as possible. Creating a good relationship with customers will result in repeat customers and recommendations.
Offer a better range of sizes and price points: To appeal to a larger audience, think about offering a choice of sizes and price ranges. Both smaller, more cheap items and expensive, larger works can be offered.
Be professional and responsive: Be pleasant and professional in your interactions with potential customers, and respond to inquiries as soon as they occur. It will create new sales in the future. 
Continuously create new art: Create new art on a regular basis to maintain your collection interesting and to give customers a reason to return. This can also help with the growth of a loyal customer interested in your artistic approach and subject matter.
Network with other artists and art professionals: Attend art fairs, exhibitions, and other events to meet other artists and professionals in the field and to build your network. You can share your thoughts and your problems in this field and gain knowledge and resolutions to be successful in this field. New opportunities and collaborations may result from these relationships.
Do acrylic paintings sell well?
The market demand and popularity of acrylic paintings can vary based on several factors, including the level of the artist's expertise, the quality of the work, the subject matter, and the current trends in the art market.
In general, acrylic paintings are popular among art lovers and collectors. Acrylic paint is versatile and can create various styles and effects, from the abstract to the realistic. Moreover, acrylic paint dries quickly, making them practical for artists who need to complete their artwork quickly.
If you are interested in a price breakdown of acrylic paint on the market you can read my article; Are acrylic paints expensive? (a price breakdown).
Contemporary art has become more popular in recent years. Pieces in this style often combine acrylics with abstract and mixed-media art. Additionally, there is a demand for one-of-a-kind and distinctive pieces, which acrylics can supply.
However, there is uncertainty over how well acrylic paintings will sell since success in the art market usually depends on various variables, such as the artist's reputation, the quality of the work, the pricing strategy, and the marketing strategies employed to promote the artwork.
How to value acrylic paintings?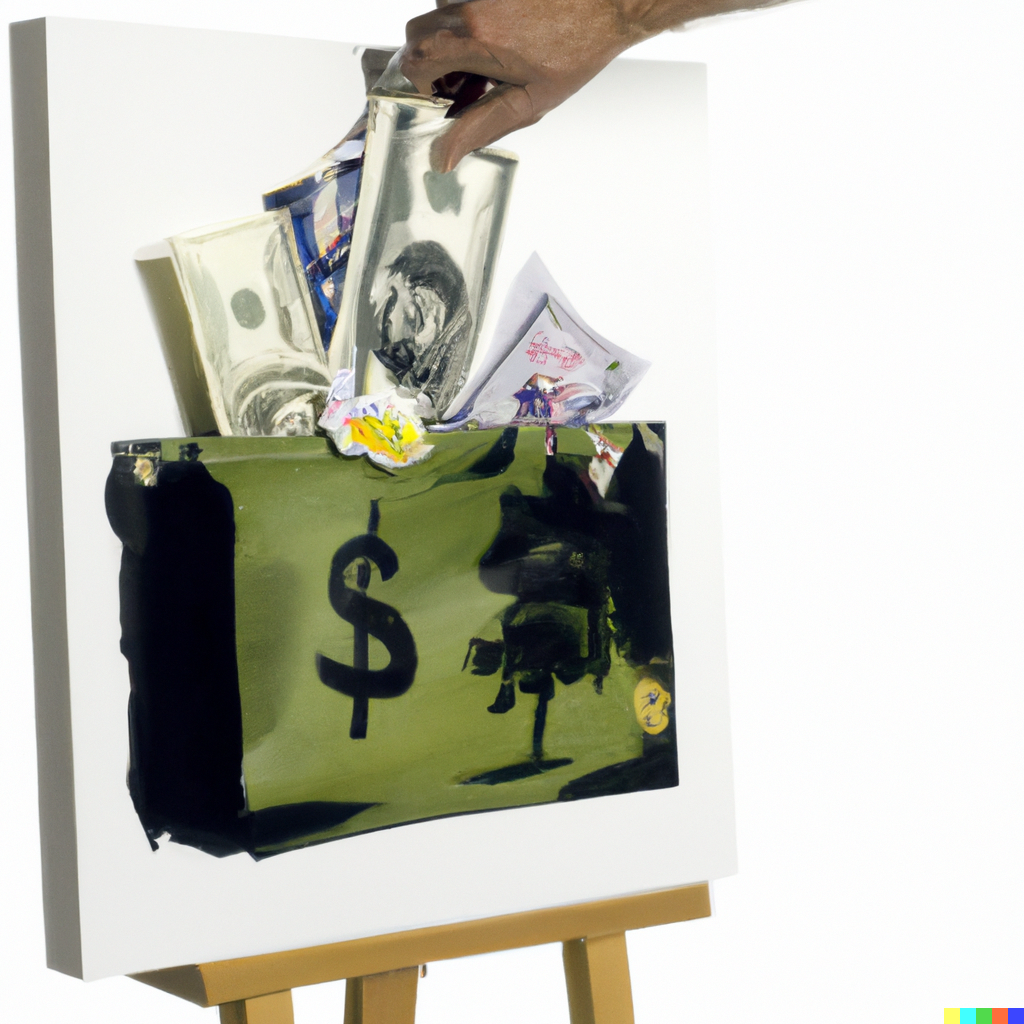 When determining the worth of the acrylic painting you need to conduct market research and calculate the cost of the supplies, labor, quality, and complexity of your work. It will assist you in determining a fair and competitive price. Make sure you're getting the right price for your artwork if you wish to have it professionally appraised.
In general, the acrylic painting of a beginner artist can range from 15 USD to 1000 USD while more established artists value their paintings at even 10,000 USD. I have written a whole article about pricing your acrylic paintings along with 7 top tips for artists. It is a complete guide that will help you decide the price of your artwork.
Conclusion
The ideal place for an artist to sell acrylic paintings depends on their requirements and objectives. When choosing which platform to use, factors like commission costs, audience size, and flexibility will all be important factors to consider.